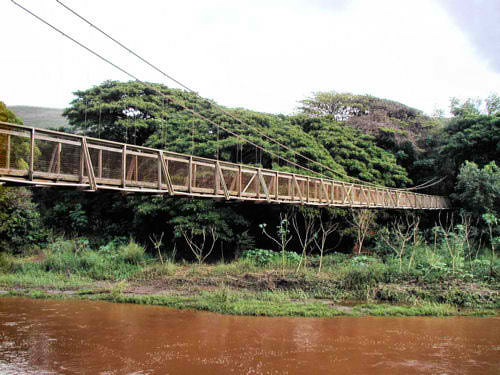 Waimea Swinging Bridge is a hanging bridge made of wood and cables spanning the Waimea River in Kauai, Hawaii. The bridge and the historic Menehune Ditch are two of the popular landmarks located along Menehune Road.
The present bridge is actually the reproduction of an older bridge which was built  by the early settlers but destroyed by the 1992 Hurricane Iniki. The new bridge was completed in 1996 and provides the only access to farms on the other side of the river.
This simple suspension bridge is anchored only on either side of the river, making it sway with the movement of the people who cross it or even by the blow of the wind. It also makes creaking noises which adds to the fun of crossing it.
To get to the Waimea Swinging Bridge, take Highway 50 west from Hanapepe toward Waimea. Once in Waimea turn right on Menehune Road, just before Mile Marker #23. On the right side of the Road you should see the Waimea Swinging Bridge. On the Opposite side of the road you will find the Menehune Ditch.
Save