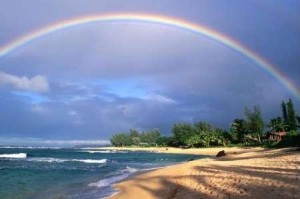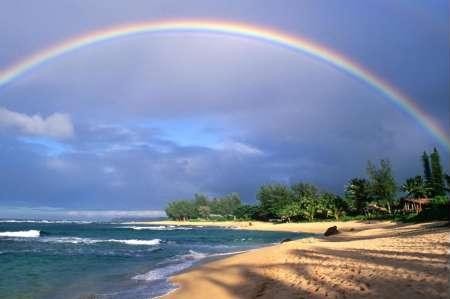 Hawaii weather is mild all year round with temperatures ranging from 75F to 88F. The months of April – September tend to have less rain than the months of October – March. The great thing about the weather in Hawaii is that even if a rain shower should interrupt your day, it rarely lasts more than a few minutes before the glorious sunshine breaks through again. You may even be treated to a rainbow afterwards.
Each Hawaii island boasts its own micro-climate depending on where you stay. The island weather is very much influenced by the trade winds which generate windward and leeward regions. In general, the North and East facing coasts tend to get more rain than the South and West facing coasts.
The tall volcanic mountains of Hawaii are significantly colder than the beach elevations. With elevations over 13,000 feet above sea level, tt's not unusual for Mauna Kea and Mauna Loa on the Big Island to get snow in the winter. At an elevation over 10,000 feet above sea level Haleakala on Maui can also get snow.
Maui (Kahului) year round temperature and rain averages by month.
Choose the sunny South coast near Wailea for a nearly guaranteed sunshine all year round. Kaanapali and Kapalua also have low rain levels and good amounts of beautiful Hawaiian sun.
The windward North and East side of Maui, including beautiful Hana, tend to have a little more rain, but not enough to spoil your day.
If you plan to venture to to the top of Maui's inactive volcano, Haleakala, plan to bring a warm windproof jacket, hat and gloves as it can get cold during the night.