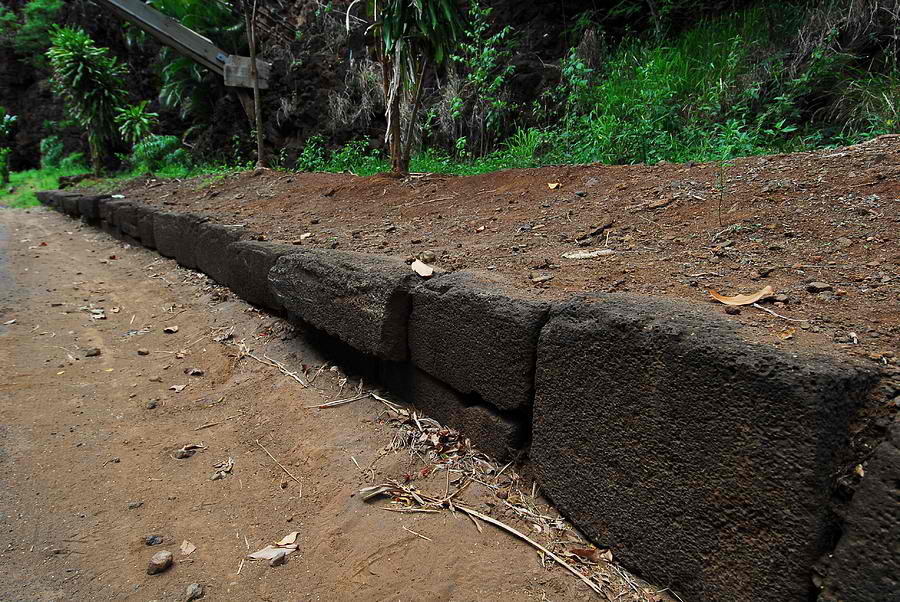 Menehune Ditch, also known as Kikiaola or Peekauai Ditch, is an ancient irrigation aqueduct (auwai) located near Waimea on the island of Kauai in Hawaii. It brought water from the Waimea River to the taro fields of Kauai. Archeologists consider the ditch as an engineering phenomena that have been built even before the Polynesians arrived on the island.
Listed on the National Register of Historic Places on November 16, 1984, what makes the ditch noteworthy are the highly refined stonework of about 120 cleanly cut basalt blocks that line about 200 feet of the outer wall of the ditch. The precisely cut and fitted stones would have required special tools and techniques that were supposed to have been not ordinarily available during those times. Archaeologist Wendell C. Bennett described the engineering marvel as "the acme of stone-faced ditches."
Legends attribute the construction of the exquisitely-made ditch to mysterious little beings called the Mehehune. According to folklore, the high chief of Waimea purportedly enlisted the help of the mythical Menehune to build the aqueduct.
The leprachaun-like little people, who live in the deep forests and hidden valleys of the Hawaiian Islands and known for their superb craftsmanship, purportedly finished the 20-foot high and over a mile long ditch in just one night. The legends add that the chief banned the villagers from leaving their homes one night so the Menehune could safely build the ditch without being seen. The lava rocks used in this construction project were also believed to have come from more than 6 miles away in Mokihana.
Apart from the Menehune Ditch, numerous other ancient Hawaiian structures are attributed to the Menehune including the Alekoko fishpond wall at Niumalu, Kauai; Necker Island structures; and the Pa o ka menehune, breakwater at Kahalu'u Bay.
Today, only about 50 feet of the ditch can be easily seen from the road. Many stones have been removed and the roadway has been built on top of the rest.
To get to the Menehune Ditch, take Highway 50 west from Hanapepe to Waimea. Turn right on Menehune Road just before Mile Marker #23. The Menehune Ditch is on the left side of the road next to the Waimea Swinging Bridge.