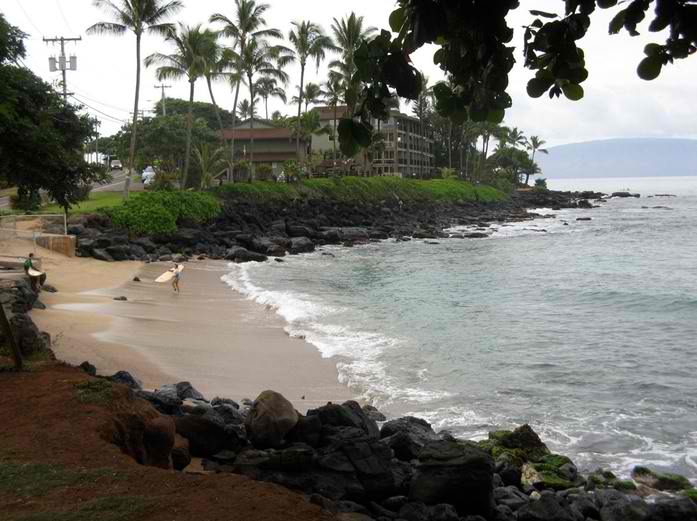 Pohaku Beach Park is a small wayside beach park adjacent to the Kahana Beach Resort in Honokeana, Maui, Hawaii. It is also called S-Turns after a former road curve that used to be in the area. It is also the site of a popular surf break which is also called S-Turns. The S-Turns is located some distance off the shoreline and requires a bit of a paddle to get to the break.
The park is just a little over an acre in size and is known for its picturesque coastline with spectacular views of the islands of Molokai and Lanai. Sunsets are also exceptional here. It is a favorite "after work" hangout spot for local surfers and families. The gentle waves and clear waters is excellent for swimming while the picnic tables, barbeque grills, and pockets of sand provide some great ambiance for picnics and relaxation.
The calm ocean condition at Pohaku Beach Park makes it an ideal paddle boarding spot. During winter months, the north swells generates surfing waves at the S-Turns spot. The waves here are shaped like the waves seen at Makaha, the famous wave site on Oahu, only smaller and thus referred to as "Little Makaha." It is the location for an annual kiddie surfing contest.
Pohaku Beach Park is located just off the Lower Honoapiilani Highway. Parking is available.
Save