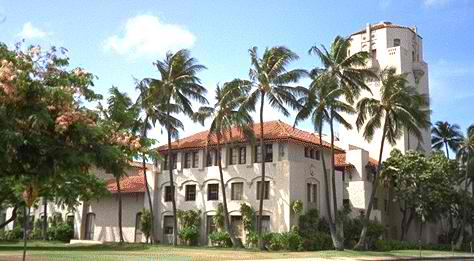 Honolulu Hale, which means Honolulu House in the Hawaiian language, is a historic building located at 530 S. King St. in downtown Honolulu, Oahu, Hawaii. It is the official seat of the government of the city and county, as well as site of the chambers of the Mayor of Honolulu and the Honolulu City Council.
The building was built in 1928 in Italianate Spanish Colonial Revival style designed by C.W. Dickey, Hart Wood, Robert Miller, and Rothwell Kangeter & Lester, prominent architects in Honolulu during those days. It features  an interior courtyard, a grand staircase, and open ceiling, modeled after the ancient palace of Bargello in Florence, Italy. Interior walls were decorated by frescoes by Einar Peterson.
In 1951, two three-story wings were added to the original structure. The building  was listed on the National Register of Historic Places with the United States Department of Interior in 1978.
The Honolulu Hale is part of the Hawaii Capital Historic District and is surrounded by other landmarks, such as the Hawaii State Capitol, Iolani Palace, the Mission Houses Museum and Kawaiahao Church. Also nearby are the Cathedral of Our Lady of Peace, Cathedral Church of Saint Andrew and Washington Place.
Save