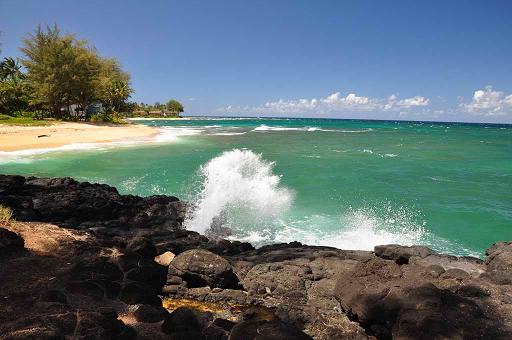 Waiaha Beach Park, more popularly known as Honl's, is a tiny stretch of white sand and small lava rocks located along Ali'i Drive in Kona, Hawaii. It is one of the lesser known and uncrowded beaches along Kona coast.
It is a popular beach for lounging and sunbathing among locals. On the northern end of the beach park is a large grassy knoll with tables and shady trees perfect for picnics and relaxation. The beach also offers breathtaking views of sunsets.
While the blue waters is inviting, the strong currents and rocky shoreline makes swimming and snorkeling not so great. However, offshore water conditions are ideal for boogie boarding. In fact, Waiaha Beach is said to be the birthplace of  the modern body boarding. In 1971, surfboard maker Tom Morey crafted the first boogie board using a long piece of polyethylene foam and tried it out in Waiaha. The rest is history.
Today, Honl's remains one of the more popular boogie boarding beaches on the Big Island. It is the venue of Kona's Annual Roots Bodyboarding Contest attended by aficionados from all over the world.
As there are no lifeguards on duty, extreme caution is advised when venturing into the ocean. Riding the waves in this beach is best left to the experts.
Waiaha Beach Park is located just past the 1-mile marker south of Kona on Ali'i Drive. Other amenities include restrooms and outdoor showers.
Save