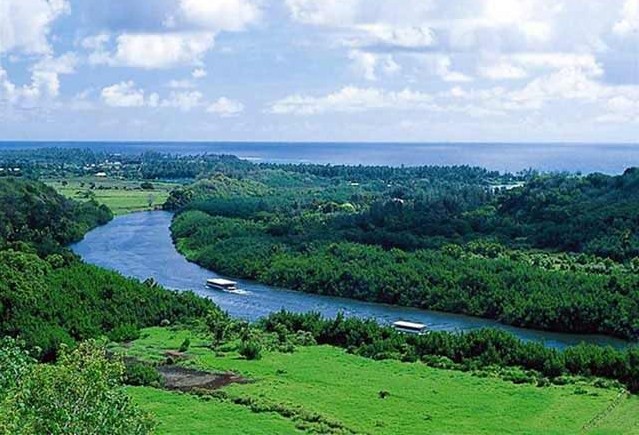 The Wailua River is a 20-mile river that weaves through eastern Kauai offering scenic views of the island's lush valleys and breathtaking waterfalls. It is the only navigable river in the entire state of Hawaii.
The river is fed by two breathtaking waterfalls: Opaekaa Falls and Wailua Falls. Rains from Mount Waialeale, dubbed as the wettest spot on Earth, also help feed the river with 480 inches (12,192 mm) of rain per year.
The two waterfalls can be access through the river via kayaks  or outrigger canoes. Boat tours are also available. One of the most popular guided boat tours lead to the popular wedding venue Fern Grotto, a natural lava rock cave decorated with draping ferns and other lush vegetation. Bands are hired to perform live traditional Hawaiian music in the grotto, giving spectators a surreal accompaniment to the spectacular views.
Another spectacular sight while cruising Wailua River is the Nounou Mountains. Also called Sleeping Giant, this land formation on a mountain ridge between Wailua and Kapaa resembles a human figure lying on its back.
The luxuriant river valley once served as the capital of ancient Kauai. It was held to be a sacred place for the island's "alii" or royalty. Apart from the lush natural surrounding, other points of interest along the river system include nemerous heiau (temples), historical sites, a bird refuge, Halokila Hawaiian Village, Secret Falls and a pool for rope jumping.
Tourists can bring their own kayaks to navigate the river but there are also shops renting out kayaks and canoes on the south side of the Wailua River. Water skiing is also a popular activity in the river.
The Wailua River State Park can be reached via the Kuhio Highway (Hwy. 56) in Kauai's east side. It is about 15 minutes north of Lihue.