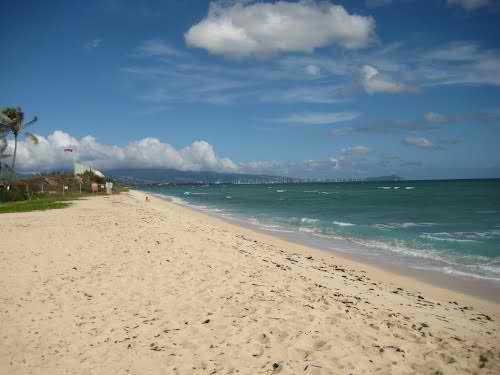 Ewa Beach Park is a five-acre park fronted by a narrow sandy beach located in a town called Ewa Beach on the island of Oahu in Hawaii.  It's bordered by Iroquois Point and Pearl Harbor to the east, Barbers Point (Kalaeloa) to the west, Ewa and Kapolei to the North and 3.5 miles of shoreline to the south.
The beach park is considered as one of the nicest beaches on the west side of Oahu. It features a stretch of white sand with some reef in the water which makes it a popular swimming and picnicking spot among local residents and tourists especially during weekends. The beach is also a good spot for fishing and for gathering limu, an edible species of seaweed.
Facilities include restrooms, showers and picnic tables.  There is also a band stand with stage, baseball diamond, basketball court and children's playground. Next door is the Iroquois Point firing range so you may hear some gun shots from target practice. The water conditions may not be perfect for surfing but a lot of outrigger canoe teams come here to practice.
The name Ewa came from the Hawaiian word that means "strayed." According to an ancient Hawaiian legend, the area was named as such by the two gods, Kane and Kanaloa, who decided to throw stones to mark the boundaries of the different land divisions as they traveled around the island of Oahu.
The stones they threw would be the border of two land divisions. However, they were unable to find the stone that they threw on the island's wide plains west of Pearl Harbor, so they named the area Ewa, in reference to the stone that strayed.
There is a number of hotels, rentals and lodging facilities available for tourist who need accommodations. There is also a commercial center with shops selling a variety of merchandise including clothing, accessories, souvenir items and even furniture! A local supermarket sells fresh produce and sea food. There are also golf courses in the area.
Ewa Beach is situated just along the coast of Oahu, Hawai'i. The H-1 freeway and the Farrington Highway are connected to the Ewa Beach by the Fort Weaver Road.