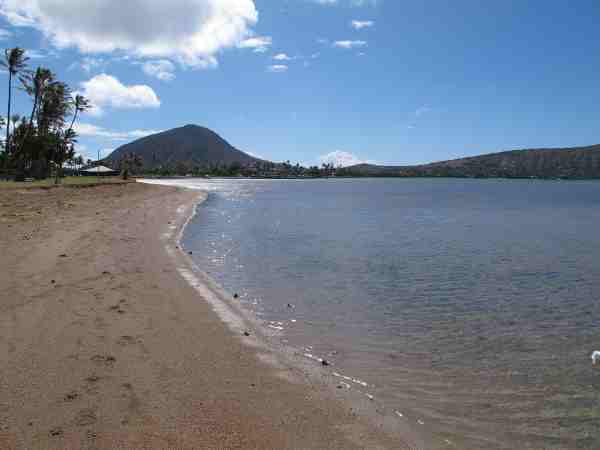 Kuli'ou'ou Beach Park is a small community park located near Honolulu in south Oahu, Hawaii. It features a narrow sand beach and a shallow reef flat and serves as an entry point to popular surf sites, namely, Tunas, Manatan's, and Turtles, situated at the outer edge of the reef.
The reef protects the beach from strong ocean waves and keeps the waters calm all year round. Popular activities her include swimming, kayaking, paddleboarding, and snorkeling if the water is clear. A huge grassy area provides spots for picnics as well as ample space for a game of Frisbee. There is also a basketball court. The area is also used for weddings, parties and other events.
The beach park is part of the serene Paiko Lagoon, a former coastal fishpond which is now a wildlife sanctuary. The lagoon is fed by a freshwater springs and Kuliouou Stream. The lagoon's water level varies with the tides and occasionally exposes the saline mudflats. This wildlife sanctuary provides a habitat to the endangered "Hawaiian Stilt" as well as other migratory water birds. Being a wildlife sanctuary, fishing is not permitted in the lagoon.
Facilities include picnic tables, restrooms, shower, parking lot.
Save