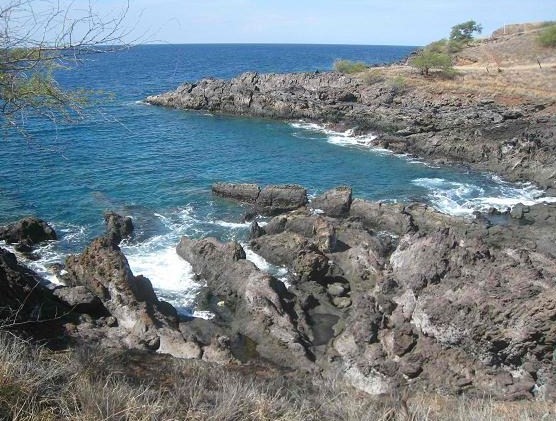 Crystal Cove is a small cove located in Kohala just north of Kawaihae Harbor and just south of mile marker 5, off Highway 270 in the Big Island of Hawaii. It is often times referred to as the island's giant aquarium because of its clear water and abundant marine life. The cove is surrounded by cliffs made from dark lava rocks.
Its rich sea life is comprised of a wide variety of corals and marine creatures making it one of the best snorkeling and scuba diving sites in the Big Island.
Inside the cove is an ideal spot for beginner divers since the water is only between 20-40 feet (6-12 m) deep. But the underwater views in this area are nonetheless spectacular. Further out the ocean are more magnificent coral gardens and marine life that are clearly visible at 40-90 feet deep waters. Spinner dolphins and manta rays are occassional visitors of these areas.
While generally safe and calm during summer, the surf at Crystal Cove can be high at times. Divers are advised to check the weather and ocean conditions before venturing into the water. Apart from snorkeling and diving, the cove is a popular venue for picture-taking since the crystal clear, deep blue water contrasts nicely with the dark lava cliffs. The shoreline is rocky so wear appropriate footwear for protection against jagged rocks. There are no facilities and lifeguards in this beach.
To get to the Crystal Cove, take Highway 270 north from Kawaihae. Just before Mile Marker #5 turn right on the dirt road leading to the ocean. The walk is about 100 yards.