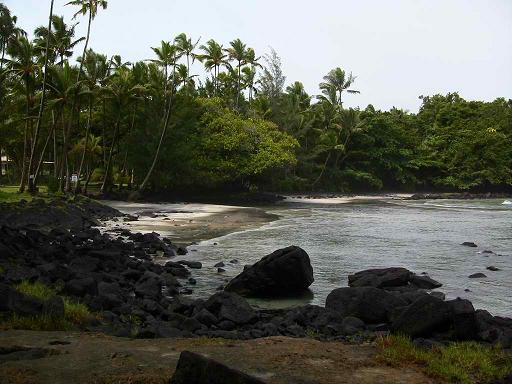 Shipman Beach, also called Haena Beach, is a beautiful crescent-shaped beach in Puna, Big Island, Hawaii. Hidden in a cove, the beach has soft white and black sand, a patch of grassy lawn and calm inviting waters. It is surrounded by the Shipman Estate, of the W.H. Shipman Ltd. fame, hence the name.
The beach is quite small but never gets crowded. In fact, you may find it deserted if you decided to visit. This is because it takes quite a hike to get there. The trail is a little over four miles long and may take 3-4 hours to complete. The walk is quite safe with no difficult cliffs or hills to tackle but may still take some stamina to navigate lava rocks and mud puddles.
The trek to the beach is actually an adventure in itself, offering some of the most scenic landscapes this side of East Hawaii.
From December to March, the beach is an ideal vantage point for whale watching as the offshore water is usually visited by pods of humpbacks whales.
To get there, turn down Kaloli Drive in Hawaiian Paradise Park. Turn left on Beach Road and head all the way to the end. The beginning of the trail is quite wide and hard to miss.
Save