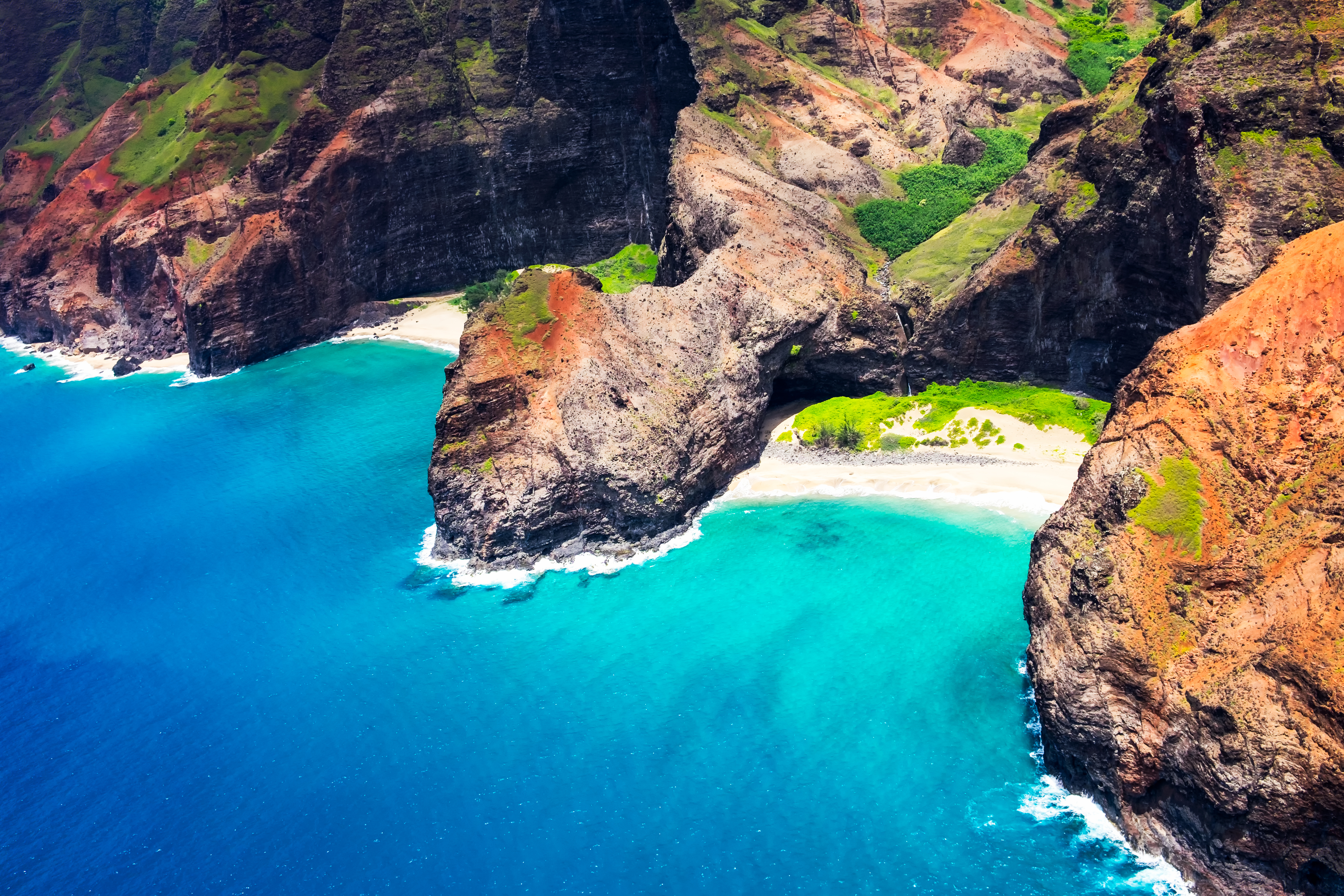 Honopu Beach, also called Cathedral Beach, is a picturesque little beach in Honopu Valley along Na Pali coast in Kauai, Hawaii. Unfortunately, it is also one of the most secluded and difficult to reach beaches on the island's north shore. In fact, there are no roads or hiking trails that lead to this beach while boats (kayaks and surfboards included) and air crafts are not allowed in Honopū Valley because it is considered sacred ground and burial site of ancient Hawaiian chiefs.
The only legal way to access this beach is to swim to it from an offshore boat or from neighboring Kalalau Beach which is only possible when the surf is low. During high surf, rip tides and crashing ocean waves can be dangerous even to experienced swimmers. Walking from Kalalau Beach is not an easier option as it entails climbing sea cliffs and walking on jagged rock ledges.
Once reached, the beauty of Honopu Beach is unmatched by any other Hawaiian beach. It actually consists of two coves with fine white sand, both backed by majestic 1200-foot (365 m) high sea cliffs and separated by the Honopu Arch. There is also a large waterfall, cascading down the sea cliff, through the arch, and into the ocean.
The name Honopu, which means "conch shell" in Hawaiian, was in reference to the conch shell-like sound produced when northerly winds blow into the arch. Because of its isolation, the beach is almost always deserted.
The mysteries and legends attributed to the valley make the beach all the more interesting to adventure seekers. During the ancient times, the bones of local chiefs were carried by warriors and placed hundreds of feet up in unmarked caves on the cliffs of Honopu Valley. After securing the bones in a safe and secret location, the warriors jump to their deaths as the ultimate sacrifice to keep the remains, which are believed to contain powerful "mana" or spiritual life force, safe from the hands of the wrong people. Otherwise, the bones can be used against the entire tribe if discovered by the enemies.
The Honopu Valley is also known as the home of the Menehune, small mythological creatures which are known for their superb craftsmanship. Numerous ancient Hawaiian engineering marvels such as heiau (temples), fishponds, roads, and other structures were attributed to the Menehune.
Save