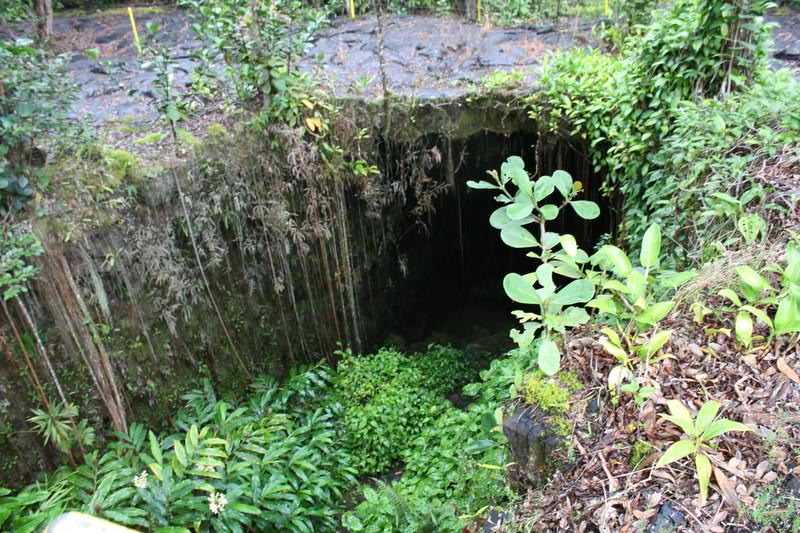 Kaumana Caves Park near Hilo is comprised of two lava tubes that are actually formed by an 1881 lava flow from Mauna Loa. The tubes are believed to be 25 miles long.
Open to the public for free, the Kaumana Caves can be easily accessed via a concrete staircase with metal railings. Except for the stairs, there are no other man-made structures near the entrance of the caves which is overgrown with lush vegetation thanks to the island's plentiful rain. There are also no lights installed in the caves so expect pitch darkness once inside. These add to the "natural" charm of the lava tubes and make exploring them truly an exciting adventure.
The first cave, to the right of the stairs, is shorter and have good amount of natural light for the first few yards. The terrain is also manageable. The second cave, left of the staircase, is longer with a small opening that you need to duck under to get to the other side of the tube which runs for hundreds of yards before opening into a lush rainforest.
To be able to appreciate the journey down the lava tubes, be sure to bring a big flashlight and wear appropriate footwear. It's pitch black down there so take with you a decent flashlight. Trust me, your iPhone's flashlight app wil not do justice to what's inside the lava tubes.
The floor of the caves can get slippery sometimes and rocky on another so wear a sturdy hiking shoes. Flip flops can send you tumbling down the steep, and sometimes slippery, staircase even before you step into the cave's entrance so don't wear them if you plan to explore the inner parts of the tubes without getting into accidents.
According to legends, the lava flow of 1881 stopped within 1 1/2 miles of Hilo due to the intervention of Princess Ruth. The princess reportedly camped in front of the flowing lava and prayed to Pele to spare the city. Her prayers were answered and Hilo was saved!
Park facilities include ample parking, picnic tables and restrooms. To get there, take Waianuenue Avenue from downtown Hilo and drive past Mile Marker #1 bear left onto Kaumana Drive (a.k.a. Saddle Road). Kaumana Cave is located on the right just past Mile Marker #4.
Kaumana Caves Park Photos