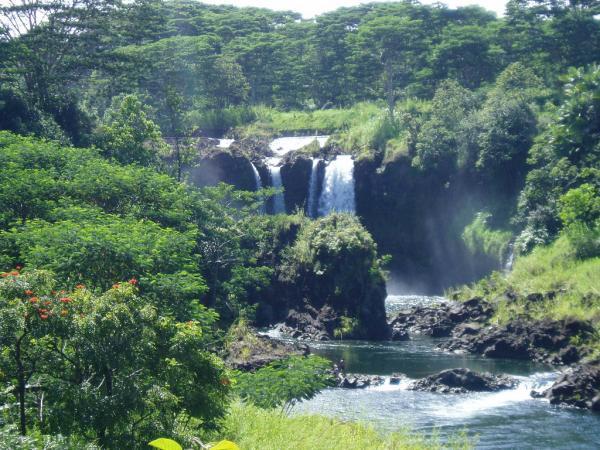 Pe'epe'e Falls (pronounced Peh-eh Peh-eh Falls) is a lesser known multi-spouted waterfalls located near downtown Hilo in the Big Island of Hawaii. It is fed by the 18-mile long Wailuku River, the longest river in Hawaii, which also feeds the more popular Rainbow Falls further downstream. Also nearby is another popular attraction, Boiling Pots, which is a series of small pools and cascades.
Its secluded and hard-to-access location makes Pe'epe'e Falls not-so-popular among tourists. Getting an up close view of the falls requires hiking down a hill and some rock skipping. You can also get wet in the process.
But once there, the falls is a sight to behold. It is said to plunge about 80 feet (24 m) into a pool surrounded by lava rocks and lush vegetation. The fall's flow is determined by rainfall. Make sure to check weather conditions before hiking to the falls as strong water current occurs during heavy rains. Also bring insect repellant as there are lots of mosquitoes in the area.
Take the right fork after Mile Marker 1 on Waianuenue Avenue in downtown Hilo and follow the signs to Rainbow Falls. Continue past Rainbow Falls for approximately one mile to Pe'epe'e Falls.There are restrooms at the park which opens at 7 a.m. and closes at 6:30 p.m.
Save