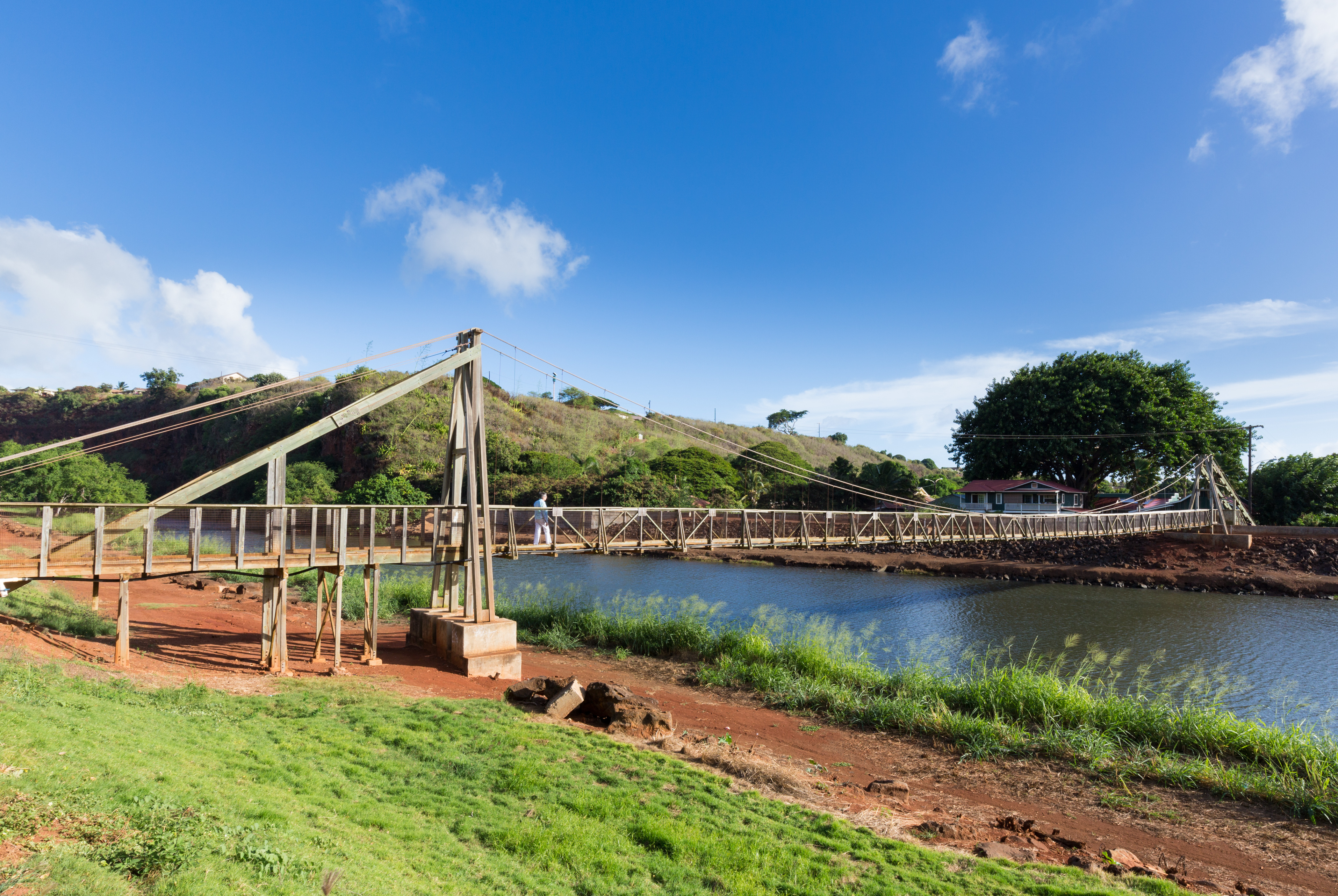 The Hanapepe Swinging Bridge is a charming foot suspension bridge that crosses over the Hanapepe River and links the old town of Hanapepe in Kauai County, Hawaii to the Hanapepe Valley on the west bank. The wooden bridge was originally built in the early 1900's as the only way for locals to cross the river. The rickety and swaying bridge have since became a popular tourist landmark in the area.
In 1992, the Hanapepe Swinging Bridge was badly damaged by Hurricane Iniki, touted as the most powerful hurricane to strike Hawaii in recorded history. The bridge was restored and reinforced with cables and wooden planks, making it more stable and less swing-y. The bridge is still used by taro farmers and locals who need to cross the river, as well as, curious tourists who want to experience crossing the unique foot bridge.
The bridge leads to the Hanapepe Valley on the west side of the river. This is a residential area and tourists are advised to turn back to the east side after reaching the other bank out of respect. The round-trip walk across the bridge takes 10-15 minutes. Crossing the bridge is free of charge.
Apart from the Hanapepe Swinging Bridge, the old town of Hanapepe is an attraction in itself, featuring historic plantation style buildings that are now home to quaint shops, local eateries and art galleries.
Every Friday, the town celebrates Friday Night Art Walk, from 6-9pm, where local painters, sculptors and craftsmen open the doors of their galleries and studios to visitors.
To get to Hanapepe, take Highway 50 west. The town is located at Mile Marker #17.