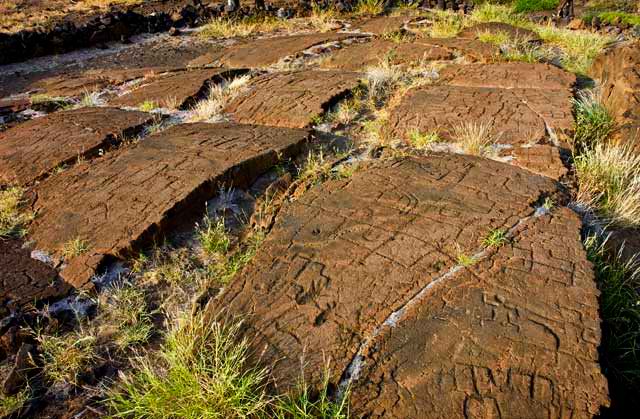 The Puako Petroglyphs is a field of more than 3,000 ancient lava rock carvings located inland from Holoholokai Beach Park in the the Kohala Coast in the Big Island of Hawaii. The carvings are believed to be between 200 and 1000 years old and considered to be the highest concentration of petroglyphs in the Pacific.
The petroglyphs were discovered during the development of a golf course for the nearby Fairmont Orchid Hawaii hotel. The area was kept intact and the  233-acre  Puako Petroglyph Archaeological Preserve was established to protect the ancient Hawaiian remnants.
The carvings vary in themes and include human forms, canoes, animals such as turtles, chickens and dogs, as well as marchers, dancers, and family groups. The petroglyphs were believed to serve many uses during the ancient times such as records of important events, a repository of sacred legend, and as beautiful art.
The Puako Petroglyphs can be accessed via the 1.5-mile (2.4 km) Malama Trail. It would take about half an hour to hike the winding trail to reach the petroglyphs field. The fragile lava rocks with ancient carvings are off limits to visitors and are protected by railings. Visitors are requested to keep within the railing to avoid damaging the petroglyphs. Along the trail are some replica petroglyphs which can be touched and get rubbings from. The petroglyphs are culturally and historically significant to Hawaii and must be treated with utmost respect.
The Fairmont Orchid offers guided tours of the lava field which is the best way to appreciate the petroglyphs. A guide will point out noteworthy figures and other interesting tidbits about the petroglyphs.