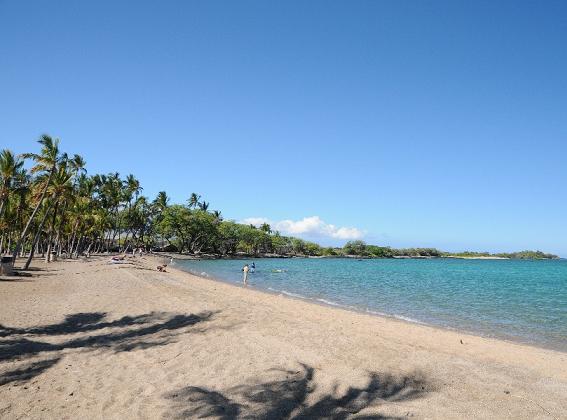 Waikoloa Beach is a palm tree-lined beach along the Anaehoomalu Bay on the South Kohala coast on the island of Hawaii. It is one of the most popular tourist attractions in the Big island not only because it offers spectacular snorkeling opportunities and breathtaking sunset views but also beacuse it is home to several cultural and geologic artifacts including ancient Hawaiian fishponds, anchialine ponds and petroglyphs.
It is also the site of the expansive Hilton Waikoloa Village, a sprawling resort hotel featuring beautifully landscaped tropical gardens complete with manmade waterfalls, waterways and lagoons. One of the newest attractions in the resort is the Dolphin Quest Village where guests, especially children, can wade in and interact with the dolphins.
Just behind Waikoloa Beach are the Ku'uali'i and Kahapapa fishponds, two of the numerous fish ponds that used to be part of an ancient aquaculture complex located on the site.
Another historical and culturally significant attraction in the area is the anchialine ponds or preserved lava pools with brackish water that were used by ancient Hawaiians to raise small fishes, crustaceans, mollusks and tiny red shrimp. The spot where the ponds are located is now called Waikoloa Anchialine Pond Preservation Area.
Also popular is a Petroglyphs field located in the center of a golf course. The stone carvings, which depict astronomical symbols, are extremely fragile and it is prohibited to touch or be near them.
Save