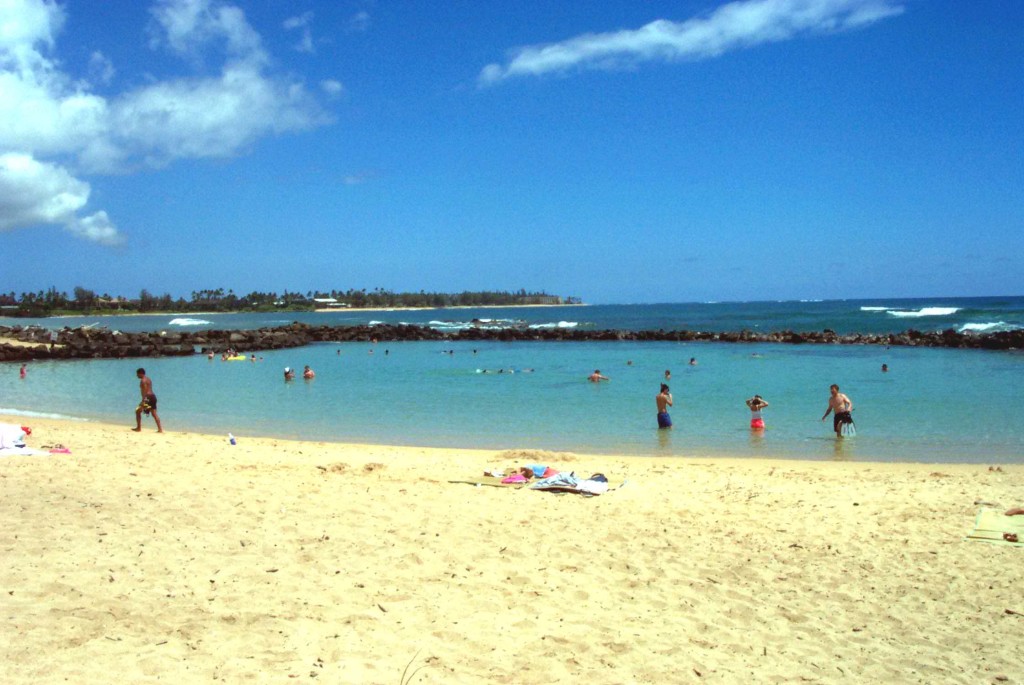 Lydgate Beach Park is located along the Royal Coconut Coast in eastern Kauai, Hawaii. It is extremely popular for families because of its calm and clean waters. The beach park is just south of the Wailua River. The Eastside paved coastal path that runs through the park makes it easily accessible.
A lava rock wall keeps a large seawater pool protected from ocean swells. The wall lets fresh water and fish in but keeps strong waves out, making it ideal for shallow swimming and beginning snorkeling. Currents are strong beyond the breakwater so take caution when venturing into these parts.
Apart from the beautiful beach, another attraction in the area is the enchanting Kamalani Playground located at the northern end of the park. The playground features a massive 16,000-sq-ft wooden castle complete with swings, slides, mirror mazes, a suspension bridge and other child-friendly contraptions. It was built by the local community in 1994.
The Kamalani Kai Play Bridge located at the southern end of the park is another reason why a lot of families with young children flock to the Lydgate Beach Park. The play bridge was also built by the local community and has giant wooden labyrinth with spiral slides, confounding ramps and stairs to nowhere.
Beach amenities include changing rooms, rest rooms, showers, drinking water, picnic pavilions and ample parking. It is also one of the few beach parks in Kauai that have lifeguards.
The beach park is between the 5 and 6-mile markers on Kuhio Hwy.