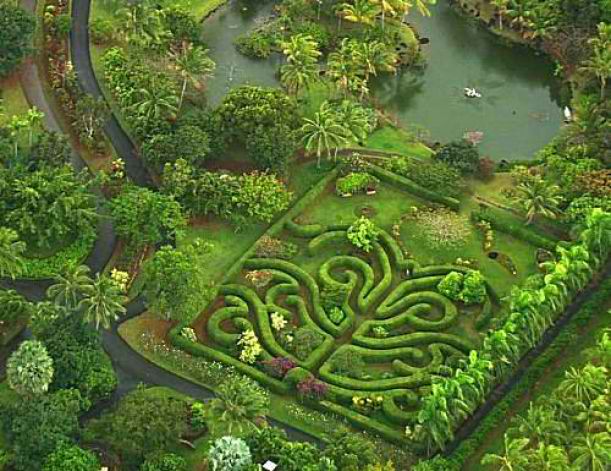 Na 'Aina Kai Botanical Gardens is a 240-acre botanical gardens located at the northern shore of Kauai, Hawaii. It started out as a private garden of Joyce and Ed Doty in 1982 until it became a non-profit organization and was opened to the public in 1999.
A hidden gem off the tourist path, the expansive botanical park featuring 13 themed gardens with waterfalls, ponds, arbors, topiaries, colonnades, gazebos, a maze, lagoon with spouting fountains, a Japanese teahouse, a stream leading to the ocean and even its own sandy beach. Seventy whimsical bronze statues are also scattered throughout the entire property.
Some of the popular attractions include the Bog House, which is home to carnivorous plant species such as butterworts and pitcher plants. A vast collection of cacti, succulents, baobabs and other desert plants are displayed at the Desert Garden.
The Poinciana Maze is made from hedges of mock-orange plants that lead visitors to well-kept topiary and sculptures while the Shower Tree Park & Kaula Lagoon is a romantic garden featuring tropical flowers, fiddlewood trees, lagoon, waterfalls and a Japanese-style teahouse.
The Children's Garden, aptly called "Under the Rainbow," provide young ones with plenty of activities by exploring its pond, tree house, train, log cabins, bridges, tunnels and slides.
A variety of guided tours are available ranging from $30 (2 hours) to  $75 (5 hours). Riding tours in a CarTram are also available. The Na 'Aina Kai Botanical Gardens is open from Tuesday to Friday only. It is located at 4101 Wailapa Road, Kīlauea, Kauai.