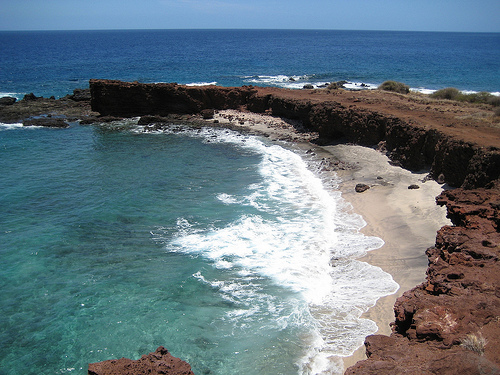 Shark's Bay is a secluded cove in Lanai, Hawaii known for its picturesque red lava cliffs and small white sand beach. It is in a hidden area on Lanai's southern shore but can be easily accessed thru a trail from Hulopoe Bay, the most well-known beach on the island.
Because of its remote location, Shark's Bay is less crowded compared to other beaches in Lanai. In fact, guests of the posh Four Seasons Resort at Manele Bay, which is located on Hulopoe Bay, prefer to take the short beach trail to the neighboring Shark's Bay to enjoy its uncrowded beach and scenic vistas, dubbed as one of the best on Lanai.
Above Shark Bay's red lava cliffs, one is greeted with the breathtaking view of Pu'u Pehe, AKA Sweetheart Rock, which is a 80 foot-tall (24 m) rock formation jutting out of the ocean. The rock is about 150 feet (46 m) away from Shark's Bay's shore.
What's more interesting about Pu'u Pehe is the story behind it. According to an ancient legend, the rock is the final resting place of a Hawaiian princess who was locked inside a cave by her jealous boyfriend. Unable to get out when the tide rose, the princess drowned. Regretful of his mistake, the grieving man buried his lady love in the natural rock formation, now known as the Sweetheart Rock, his grand tribute to the princess.
The bay's small cove with fine white sand is a perfect spot for sunbathing, picnics or just appreciating the magnificent views. Swimming is discouraged at this beach due to the strong currents and a rocky ocean bottom. Facilities include showers and restrooms that are located near Hulopoe Beach. There are no lifeguards.
Shark's Bay - Lanai, Hawaii Photos