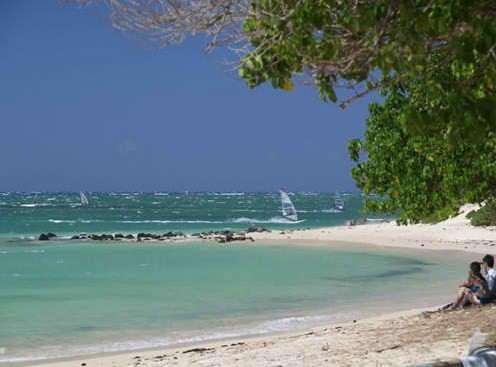 Kanaha Beach Park is a sixty-six-acre county beach park located in Kahului in Maui, Hawaii. The eastern part of the park is a well-known destination for windsurfing and is in fact considered as one of the major windsurfing sites on Maui's north shore.
The consistent and high velocity trade winds keep the area a windsurfer's paradise for most part of the year. During windy days, 100 or so windsurfers may be found in the water at any time of the day, while the beach itself is covered with resting surfers along with their boards and sails. Kitesurfing and canoeing are other popular activities.
The western side of the park is undeveloped and is dominated by kiawe grove.
A section near the eastern end is dedicated to swimming, equipped with a line of bouys which delineate the area from the surfing section. The beach in this area is about one-half mile long and features fine white sand surrounded by shady trees. From the beach are breathtaking views of the West Maui Mountains and Iao Valley.
Facilities include picnic tables, barbeque grills, water taps, restrooms, outdoor showers and parking. There are also three beach volleyball courts with poles. Visitors who want to play should bring their own nets and balls.  Lifeguard station is only manned from 8:00 am to 5:00 pm.
Directly inland of the park is the Kahului Airport so expect some aircraft noise every now and then.