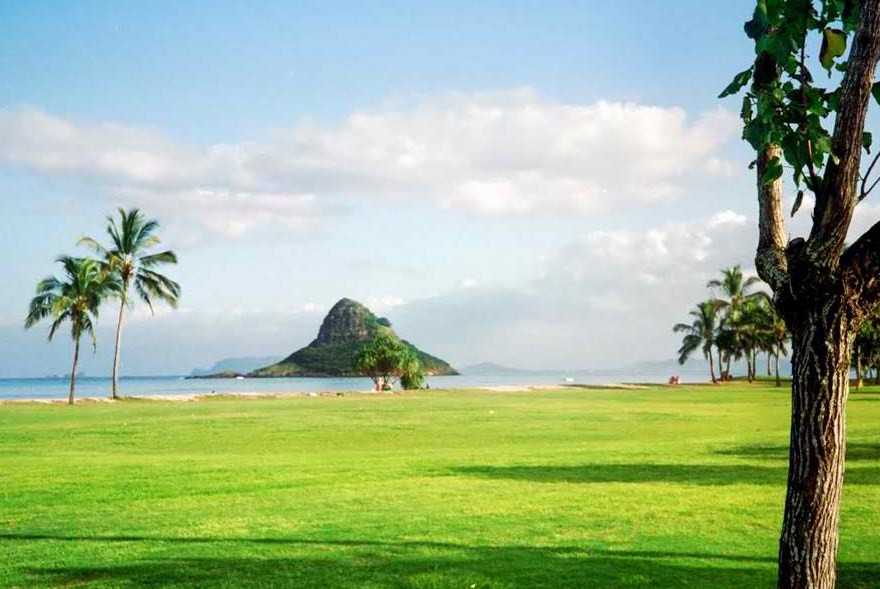 Kualoa Regional Park is a 153-acre public park located at Kaneohe Bay, on the island of Oahu in Hawaii. Kualoa means "long back," but may be translated symbolically as "long ancestral background." It is listed in the National Register of Historical Places.
In ancient times, O'ahu's chiefs brought their children to Kualoa to be trained as rulers and to learn the traditions of their heritage, making it one of the most revered places on the island. In deference to the sacredness of Kualoa, canoes passing by had to lower their sails.
The park is fronted by a long, thin strip of beach which is safe for swimming. The ocean bottom off the beach is shallow, featuring a mix of reef and sand pockets. Behind the beach is an expansive grassy lawn and picturesque views of inland Koolau Range.
Park facilities include picnic tables, rest rooms, showers and a lifeguard. A few palm trees provides shad. Camping is allowed from Friday through Sunday.
Kualoa Regional Park is a great vantage point to Mokolii, the small basalt island 1/3 mile offshore. According to Hawaiian legend, the island was the tail of Mokolii, a nasty lizard slain by a god. Following the immigration of Chinese laborers to Hawaii, the cone-shaped island was nicknamed Chinaman's Hat in reference to its resemblance to the straw hats used by the Chinese.
The park provides the easiest access to Mokolii Island during low tide via kayak, boat, surfboard, or swimming.
A marsh called Apua Pond is also located in the park. It is a nesting area for numerous endangered Hawaiian wetland birds, such as the Japanese White-eye, Red-crested Cardinal, White-rumped Shama, Black-crowned Night Heron, Black-necked Stilt, Nutmeg Mannikin, Black Noddy, Wedge-tailed Shearwater, White-tailed Tropicbird, Red-tailed Tropicbird, Common Myna, Common Waxbill, Cattle Egret and a variety of others.
Kualoa Regional Park is approximately 45-minute drive north from Honolulu.