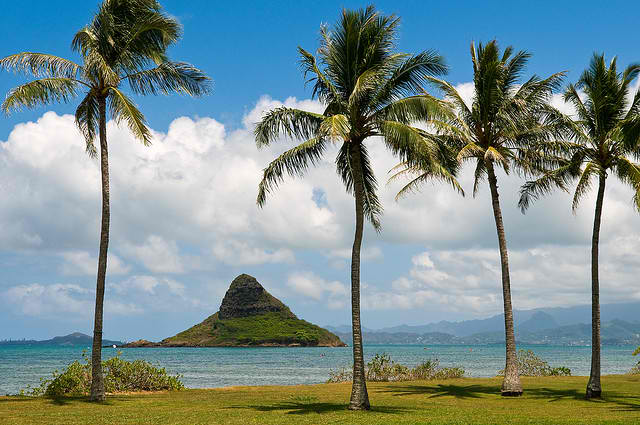 Mokolii is a 12.5-acre (5.1 ha) island formed from basaltic lava offshore of Kualoa Point, Oahu, in Kaneohe Bay, Hawaii. It is nicknamed Chinaman's Hat because of its resemblance to the straw hats that Chinese immigrants wore. Its peak is 206 feet high.
The Chinaman's Hat used to be connected to Oahu but years of erosion made it appear like it it has separated and is completely surrounded by water. However, it can still be reached easily via the Kualoa Regional Park during low tide by  kayak, boat, surfboard, or swimming.
Being open to the public, Molokii have become a popular attraction among adventurous tourists and locals. There is a small beach in a secluded cove with waters teeming with a wide variety of marine life including stonefish and sharks. Some visitors also climb the cinder cone, but it is a bit steep and might be difficult for beginners.  Mokolii offers stunning views of the Koolau Mountains, Mokapun peninsula, Kahaluu, Kaneohe, and Kailua.
The island has been featured in several films including Adam Sandler and Drew Barrymore's 50 First Dates and The Big Bounce with Owen Wilson. It is also seen in the official music videos of Keyshia Cole's "Heaven Sent" and Nicki Minaj's "Starships".
To get there, take Kamehameha Highway to the Kualoa Point State Recreation Area. It is approximately a 45-minute drive north from Honolulu.
Mokolii Island - Chinaman's Hat Photos