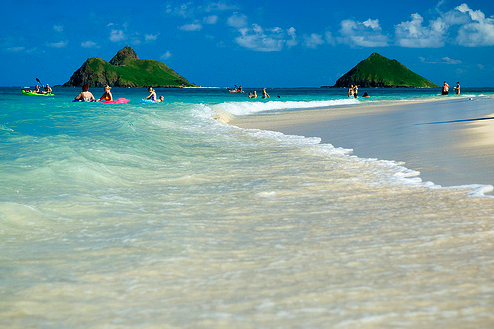 Lanikai Beach is located in Lanikai, a suburb of Kailua, on the windward coast of Oahu. Described as too gorgeous to be real, this beach stretch along the Windward Coast is one of Hawaii's most beautiful beaches. The shore, running a mile long, is covered in golden sand as soft as powdered sugar while the warm turquoise water is inviting visitors for a dip.
The waters are calm all year-round and best for swimming, snorkeling, kayaking and other water activities. There are two tiny offshore islands that not only adds to the magnificent views. The islets are collectively known as Nā Mokulua, which means "the two islands" in Hawaiian, and popularly referred to as the "Moks" by locals.
The larger island (on the left when looking from Lanikai) is Moku Nui and the smaller is Moku Iki.  Apart from adding scenic views from the beach, the islets are also part of the Hawaii State Seabird Sanctuary. They are both off-limit to the public.
If you want this Hawaiian beach to be all yours, come on a weekday. It can get very crowded during weekends especially during peak season. However, don't expect public parking lots, restrooms, showers or lifeguards.
Lanikai Beach Photo Gallery