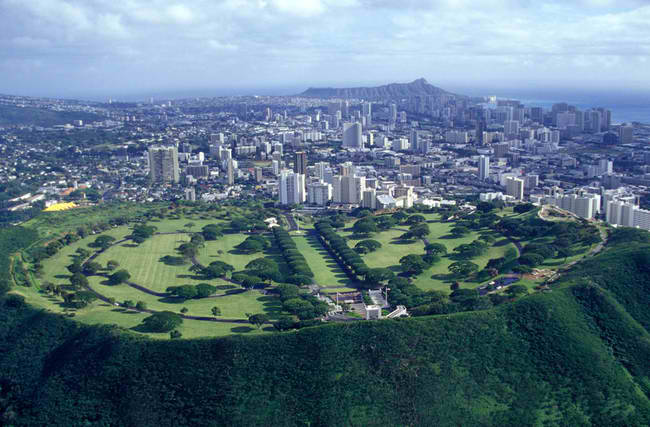 Punchbowl Crater is an extinct volcanic tuff cone located in Honolulu, Hawaii. In ancient times, the crater was used a sacrificial ground and also the site of many secret royal burials. Its Hawaiian name Puowaina can be translated as either "hill of sacrifice" or "consecrated hill".
In 1948, the Cemetery of the Pacific, a national cemetery for fallen servicemen and veterans, was constructed inside Punchbowl Crater. Some of the first remains to be buried there were 776 military personnel who died on December 7, 1941, during the Japanese attack on Pearl Harbor.
Today, the cemetery is filled to capacity with more then 33,000 graves of military personnel who served in World War II, the Korean War, and the Vietnam War. Thousands of flower leis are collected every year to adorn the graves before an annual Memorial Day ceremony that is held inside Punchbowl Crater
Punchbowl Crater is located above the city of Honolulu at 2177 Puowaina Drive. It is open daily, from 8:00am to 6:30pm. Admission is free.
How to get there:
Take Ward Avenue off of Ala Moana Boulevard. Take a right on Prospect Street and follow the signs into the Punchbowl, The Cemetery is also accessible from H1 or the Pali Highway. Follow the signs.