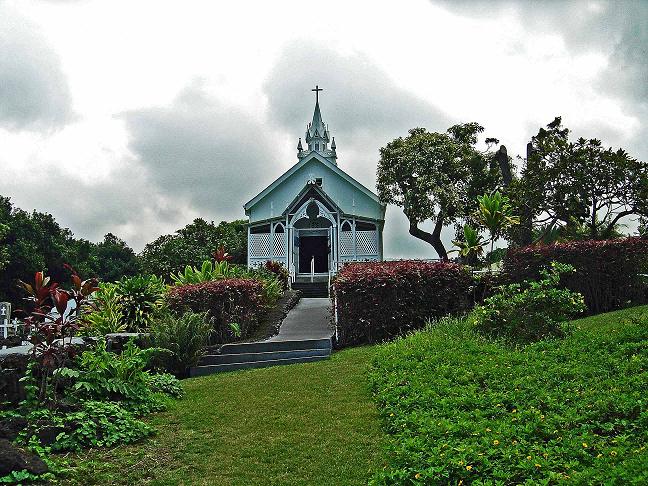 St. Benedict's Parish, also called the Painted Church, is a historic Roman Catholic church located in South Kona, in the Big Island of Hawaii. It overlooks the beautiful Kealakekua Bay in Honaunau. The church was named after St. Benedict, founder of the Benedictine Order and patron saint of Western Europe.
Father John Velghe, a Belgian-born priest, built the tiny church using his own hands in 1899. Also a self-taught artist, he painted the walls, columns, and ceiling of the church with religious scenes in the style of Christian folk art found throughout the South Pacific. The frescos where used by Father Velghe to teach the spiritual lessons to native Hawaiians who could not read.
Despite his untrained hands, Father Velghe was able to create exceptional murals including a trompe l'oeil of the nave of a Spanish Gothic Cathedral behind the altar, as well as six murals on the sides walls, and a vaulted ceiling depicting the sky with palm fronds, stars and birds.
The architecture of the church is of the European Gothic cathedral tradition. It is made from wood and features sloped green roof and a latticework entrance. The church is crowned by an ornate belfry, called a little masterpiece by parishioners.
St. Benedict's Painted Church is listed on the Hawaii State Register of Historic Places and the National Register of Historic Places. Mass is offered daily. Admission is free although donations are appreciated to help with upkeep and preservation of the old place of worship.
Apart from the church, there is also a small museum of Hawaiiana across the parking lot and two old cemeteries at the far side of the church worthy of a visit. The St. Benedict's Painted Church is located at 84-5140 Painted Church Road, Captain Cook, Hawaii.
Save