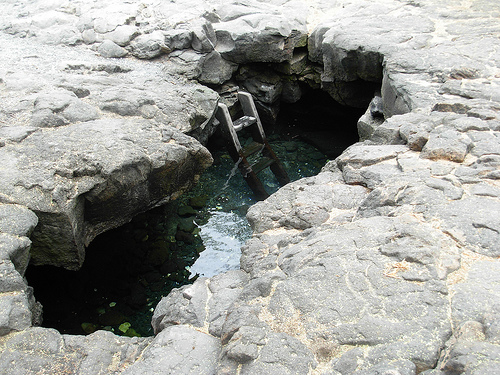 Kiholo Bay is a picturesque bay known for its tide pools with torquoise brackish water. It was part of an ancient fishpond built by King Kamehameha the Great in 1820. A lava flow from Mauna Loa in 1859 destroyed most of the pond, leaving only the rock walls and sleuce.
A natural semicircular barrier protect Kiholo Bay from strong surf and waves, making it a popular swimming and snorkeling destination. When tide is out, inviting tidepools dot the bay. The area is also a great spot for watching sea turtles which frequent the area.
Down south the coast is Keanalele Waterhole which is one of the popular attractions in the area. The waterhole is actually a lava tube that is filled with a mix of salt water from the sea and fresh water a spring. The tube's roof has collapsed in two places allowing easy access to the pool below. A wooden ladder was placed in one of holes to allow entry. Once in the pool, the holes above serve as natural skylight. Water in the Keanalele Waterhole rises and falls with the tide.
The bay is surrounded by private properties but there is a public access road to reach the beach. Visitors should use this access and avoid trespassing at all cost. There are no facilities in this beach so bring everything you need. Instead of sand, the beach has rocks so wear appropriate footwear.
Kiholo Bay and Keanalele Waterhole can be reached at Mile Marker #82 off Highway 19. Near the marker is an Overlook offering spectacular views of the bay. From the Overlook is the public access road which leads down to the ocean.
Photo credit: brewbooks via Flickr
Save