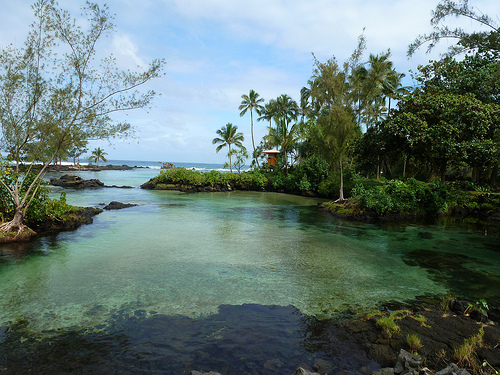 Carlsmith Beach Park is one of the most beautiful beaches in Hilo area, adjacent to the James Kealoha Beach Park to the east. It features a rocky shoreline and a reef made up of lava rocks which protects the beach from strong ocean waves.
The beach park is also known for its natural anchialine lagoons with white sand bottoms, making them excellent for swimming and snorkeling. Freshwater from underground streams bubbles up into some of the ponds creating cooler spots.
The area is rich in marine life including sea turtles that seem to be not bothered by the presence of humans. They sometimes even swim up to snorkelers instead of away from them. Keep in mind though that they are endangered creatures that should be left to their own devices.
In lieu of a sandy beach, Carlsmith Beach Park boasts of lush tropical vegetation, including coconut palms and native trees which provide shade and give that Polynesian vibe. There is also a grassy lawn ideal for picnics or for just laying out to soak some sun.
Facilities include restrooms, pavilions with electricity, showers, drinking water, and telephones. Lifeguards are also on duty, making it a safe destination for families with young kids.
The Carlsmith Beach Park is located along Kalanianaole Ave., a 5 to 10 minute drive from downtown Hilo. There is a parking lot right on front of Carlsmith Beach Park on the left-hand side of the street.
Save