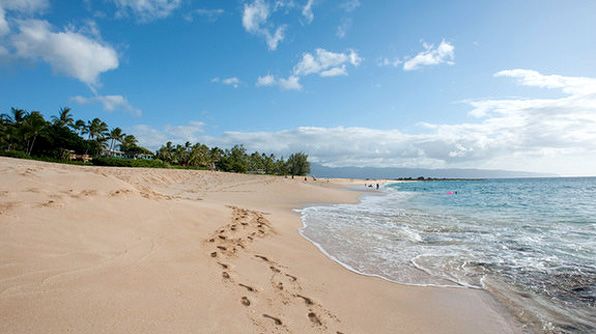 Ke Iki Beach, not to be confused with Kauai's Keiki Cove, is a beautiful white sand beach in Haleiwa, North Shore of Oahu, Hawaii. Located off of Ke Iki Road, just off of Kamehameha Highway, the beach features about a mile of soft white sand with a rocky reef at the west end.
It's relative seclusion makes it less crowded compared to more popular beaches in the area such as Sunset and Pipeline. However, it can still get congested especially during weekends  so make sure to come in early if you want to get a spot on the limited parking lot.
Behind the beach are few shady trees but these spots get immediately taken by early birds so make sure bring an umbrella if you are coming in late and cannot take the heat.
Ke Iki Beach has calm waters on most days, making it safe for swimming and snorkeling. In winter, however, waves can reach up to 20 feet. Always take caution when entering the water and heed "no swimming" signs posted by lifeguards during dangerous conditions. The beach  also provides a great spot for whale watching during winter.
Apart from swimming, sunbathing and taking in the beautiful views, the beach is also one of the few dog-friendly beaches in the area, allowing pet lovers to play with their four-legged friends.
Make sure to bring plenty of water and sunblock to protect you against the sweltering heat. You can bring food or get some from nearby stores and small eateries.
Save