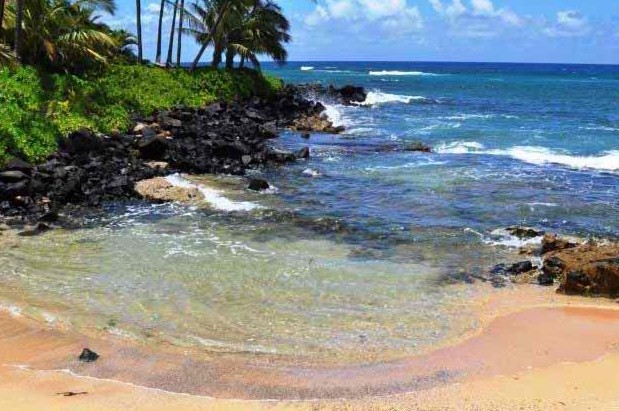 Keiki Cove is a tiny stretch of beach just past Lawai Beach. It's another protected beach on Kauai's southern shore ideal for young children to swim, play and experience the ocean. In fact, its name means "children" in Hawaiian.
The small beach features fine white sand bordered by lush bushes and black lava rocks. The water is shallow and calm most of the year and the lapping water is safe for little ones. There are also tide pools.
It is a little known destination making it crowd free most of the time.  However, it is starting to become a popular destination for weddings as it offers a serene ambiance and spectacular sunsets.
Waves and strong currents can exist so always check the water before allowing kids to play. There are no life guards and other facilities.
To get to Keiki Cove, head south on Poipu Road from Koloa town. Continue along on Poipu Road (HI-520) until you merge into the "Welcome to Poipu Beach" round-about. Continue around the round-about and follow the sign "Spouting Horn" (second exit) and continue along Lawai Road for approximately two and a quarter miles. Pass the The Beach House restaurant and Lawai Beach Resort and look for the lava rock wall after the second house after Lawai Beach. Plenty of free parking is available in the small lot on the right.