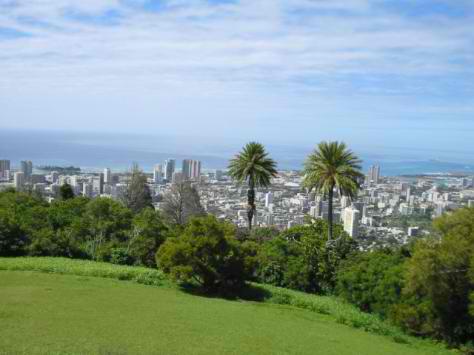 Mount Tantalus, originally known as Pu'uohi'a, is an extinct cinder cone located in the southern Koolau Range in Oahu, Hawaii. The nickname Tantalus, after the Greek god, was given by Punahou schoolboys on a fern-collecting expedition in the 1840s.
With elevation of 2,014 ft (614 m), the mountain offers spectacular panoramic views of Diamond Head, Waikiki, Punchbowl Crater, and downtown Honolulu, with the vast blue ocean as a backdrop.
The narrow roads of Round Top and Tantalus Drives provide comfortable way to reach the Ualaka'a Park Lookout at the top of the mountain which provides the best views. On the way up Round Top Drive, are The Contemporary Museum and Punchbowl Crater, which contains the National Memorial Cemetery of the Pacific. More than 30,000 military veterans are buried here including Astronaut Ellison Onizuka.
Apart from the breathtaking views, Tantalus is also known for its numerous hiking trails that lead to lush rainforests featuring bamboos, rare Hawaiian plants, an assortment of wild fruit trees such as coffee plants, guavas, thimbleberries and mountain apples.
The sloping terrain of Tantalus makes it a favorite destination among cyclists and skateboarders. The mountain is also the address of choice for some well known families, with some of the most beautiful residences in Oahu.
How to get there:
From Waikiki get on Ala Wai Blvd., turn right on McCully Street and head towards the mountains. You will cross a bridge over the H1 Lunalilo Freeway, after the bridge turn left onto Wilder Avenue. Drive northwest and turn right on Makiki Street, at the 1st set of lights. Follow Makiki Street up until you come to a Y and then take Round Top Drive the rest of the way. You will end up going past the National Memorial Cemetery of the Pacific at Punchbowl and will come out into the business district of Honolulu.
Save