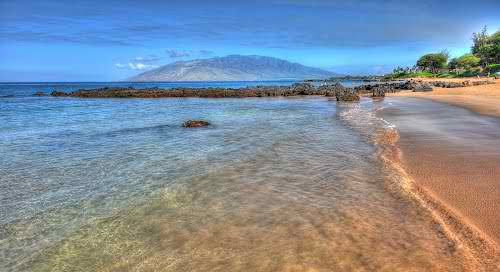 Kamaole Beach Parks is a long stretch of sand (1.5 mile) in the southern part of Kihei in Maui. It is divided into three beach parks, namely, Kamaole Park I, Kamaole Park II and Kamaole Park III. The beach parks, all featuring fine white sand, are also called by their nicknames, Kam 1, Kam 2 and Kam 3, by locals and Maui regulars.
Numbered from north to south, each of the Kamaole Beach Parks has its own appeal and charm, apart from their incredible views of Molokini, Kaho'olawe and Lanai islands. Kamaole Park I, for instance, has the largest and prettiest beach among the three, with calm waters perfect for swimming and snorkeling. Kamaole Park II has a smaller beach but water is nevertheless excellent for swimming and other water activities. Kamaole Park III, also the most popular among the three, has the largest park, with expansive grassy areas and shady trees for picnics, relaxing and running around for kids. Having a larger park, Kam 3 also features a children's playground. The break here can get fairly large during south swells making Kam 3 popular for boogie boarding.
All three parks have picnic tables, barbecue grills, restrooms, outdoor showers and free parking. There are also lifeguards on duty. Sunsets here are amazing and if you are lucky, you can even see whales jumping on the distant waters.
Directly across the street from Kam 1 and Kam 2 are several condominium developments and the Dolphin Center and Rainbow Mall shopping complexes. There are also numerous shops across the street where food, snacks, and sundries are conveniently available.
Despite proximity to the South Kihei Road and various commercial and residential developments, these beach parks never really get overcrowded. There may be a lot of people during peak season but not really as congested as other Maui beaches.
The three Kamaole Beach Parks can be reached via the South Kihei Road (turn off between mile 7 and 9 from Highway 31 AKA Piilani Highway).