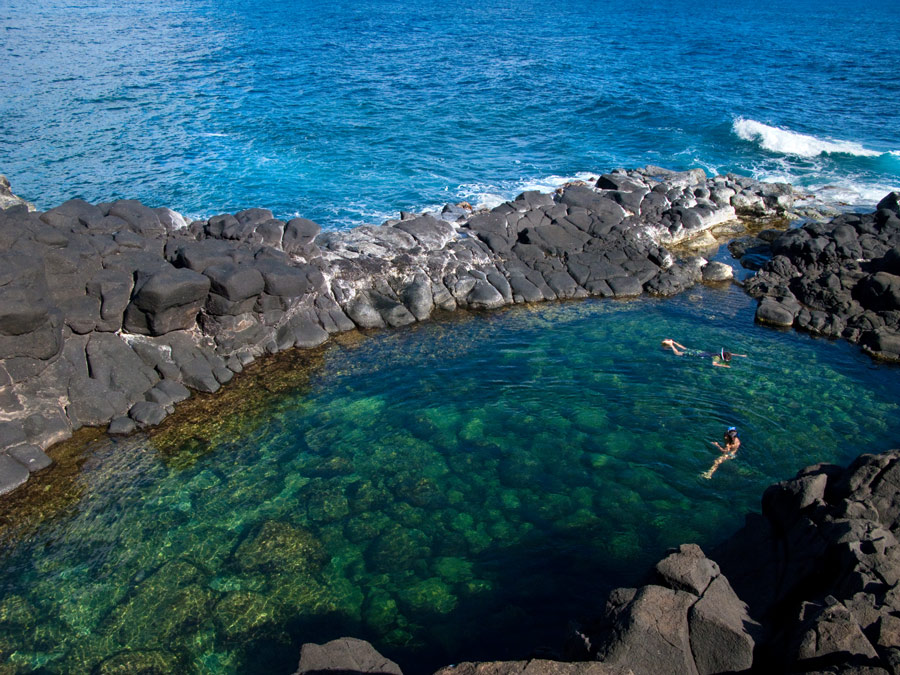 Located near a posh neighborhood in the town of Princeville on the north shore of Kauai, the Queen's Bath is a natural tide pool carved out of lava rocks and filled with clear, cool emerald water. The view from the pool is spectacular. The Queen's Bath is about the  the size of a regular swimming pool with a variety of small fishes and other marine creatures swimming around. The tides and waves replenishes it with fresh sea water. Aside from swimming, snorkeling and enjoying the views, jumping off a lava ledge onto the pool is another popular activity.
It is safer to visit the Queen's Bath during summer months, when the water is calmer. During this time, the water in the pool is clearer and you can see small fishes swim by even without goggles. Sea turtles are also regular visitors. There is also less danger of getting swept into the ocean by massive waves during summer.
However, it's another story during winter months and inclement weather when rouge waves can endanger lives. In fact, numerous accidents and drownings have been reported during winter when big waves swept over the rocks and knocked  tourists into the ocean. There were instances when the county closed the bath due to dangerous conditions. There are numerous signs along the trail leading to the bath warning people about the dangerous surf.  A board with the number of supposed drownings carved into it was also erected along the path to remind tourists about the perilous nature of the area.
It's sheer beauty and treacherous reputation make the Queen's Bath a popular attraction among the adventurous. The trail leading to it is short and easy but can get muddy and slippery after a rain with nothing to hold on to. Once off the trail, you'll be trekking on lava rocks which could also be slippery because of the ocean spray. Going down on the rocky part of the trail can be a challenge and visitors are advised to wear appropriate footwear with good traction to avoid accidents. Also get the surf report before going to the bath and always proceed with caution even if it's summer!