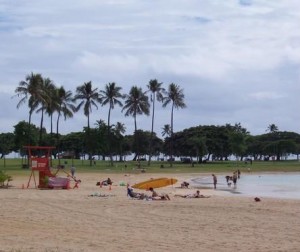 Ala Moana Beach Park is a 100-acre free public beach on Oahu Island. It is located between Waikiki and downtown Honolulu making it a popular beach in the area.
The beach was developed in the 1950s when the Dillingham Dredging Company dumped all their dredged material on the area.  Sand was then deposited on the reclaimed area, creating the half-mile (800 m) long beach with golden sand.
The Ala Moana beach also boasts of calm waters all year long because of an outer reef which protects it from massive waves. This makes the beach an ideal venue for long-distance swimmers and safe for young children. There are also a 25-foot-deep swimming channel and a former boat channel that was dredged out of the reef.
Behind the beach are big grassy spots, banyans and palm trees which are perfect for family picnics and other activities such as jogging. There are also lifeguards, showers, restrooms, phones, tennis courts, picnic tables, food concessions and a music pavilion.
At the back of the park, across Ala Moana Blvd, is the famous Ala Moana Shopping Center. Just to the east are Ala Wai Boat Harbour and then the beaches of Waikiki, the most heavily touristed area of Oahu.
Ala Moana Beach Park Photo Gallery