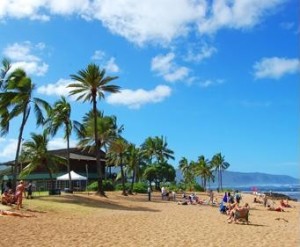 Hale'iwa Ali'i Beach at Hale'iwa is one of the most popular surf beaches on the North Shore of Oahu in Hawaii and is part of what many surfers call "the 7 mile miracle". It truly lives up to its name when it comes to surfing.  'Ali'i' means 'Royal' or 'Kingly' in the Hawaiian language.
The beach is perfect for learning to surf during small days while on big days, it churns out massive waves fit for the pros.
There is also a small protected bay on the South side of the beach which is ideal for swimming. Picnic areas, rest rooms, showers, parking area and phones are also available.
Caution is advised to surfers as the break can be very dangerous, especially at low tide, as it is on a shallow reef. The deeper waters around the breakwater often have very strong rip currents that run seaward into Waialua Bay.
Hale'iwa Ali'i Beach Park Photo Gallery