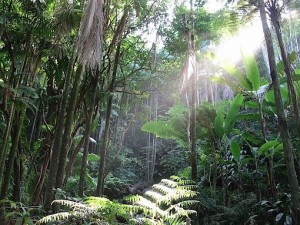 The Hawaii Tropical Botanical Garden is a nature preserve located off Route 19 at 27-717 Old Māmalahoa Highway, Pāpa'ikou in Hawaii Island.
The garden used to be a private property developed by Dan J. Lutkenhouse since purchasing the land in 1977. It opened to the public in 1984, and was donated by the Lutkenhouses to a nonprofit trust in 1995.
The 40 acre garden sits on a scenic valley opening out to Onomea Bay and holds the distinction of having the largest selection of tropical plants growing in a natural environment in the whole world. That includes more than 2,000 plant species, representing more than 125 families and 750 genera, with good collections of palms (nearly 200 species), heliconias (more than 80 species), and bromeliads (more than 80 species). Some of the Garden's mango and coconut palm trees are over 100 years old.
Some of the amazing attractions in the garden is the three-tiered Onomea Falls, the torch gingers which can reach up to 12-ft high, a banyan canyon, an orchid garden, a banana grove, a bromeliad hill, and a golden bamboo grove, which rattles like a jungle drum in the trade winds. The the rare Gardenia remyi, is only one of the numerous endangered Hawaiian specimens, that thrive in the reserve's habitat.
Hawaii Tropical Botanical Garden Photo Gallery