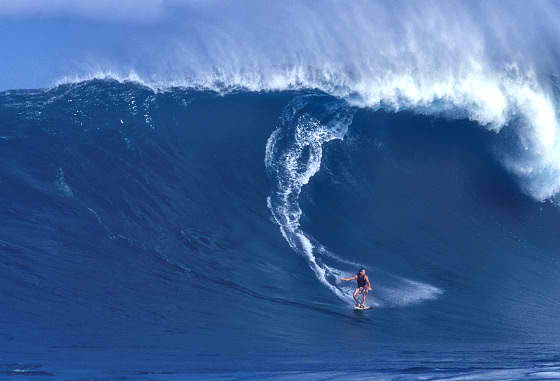 Peahi is Maui's answer to  Oahu's North Shore when it comes to big wave surfing. Peahi is located on the north shore of Maui, extending from the northern slopes of Haleakalā to the sea-level Pe'ahi gulch.
It is well known for the "Jaws," the world's biggest wave surfing break. Jaws, which can create 40-70 foot monster waves, is generated by winter storms swells traveling over a barrier reef. Because of this, Peahi has become the official venue for some of the world's most prestigious big wave surfing competitions.
Jaws goes off during winter months (December to March) but changing conditions make it impossible to determine exact dates when the big waves are coming. Thus, competion organizers must wait for perfect surfing conditions to come in before they can schedule events.
The waves of Jaws must be left to the experienced surfers. It takes immense skills and experience to ride these treacherous waves and come out alive. To get into these gigantic waves, surfers are towed in by jet skis.
For spectators, the cliffs above Peahi provide an excellent vantage point to watch surfers ride Jaws. It can get crowded during competitions so be early to secure a spot.
Peahi is located between mile marker 13 & 14 along Hana Hwy aka Hwy 36. It can only be accessed by a 4WD.
Save