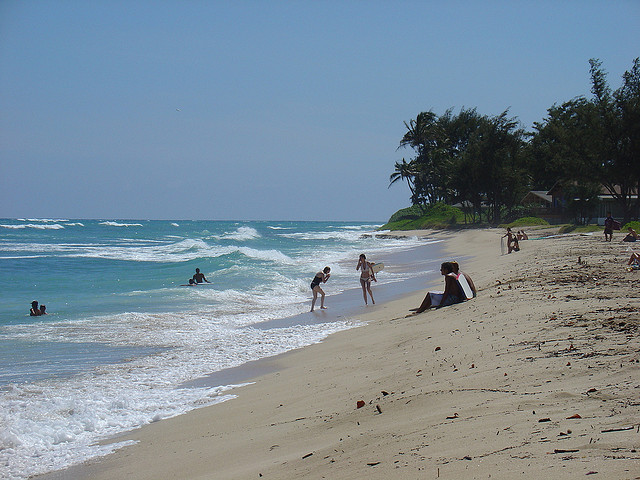 White Plains beach is a long, sloping beach on the south-west side of Oahu, Hawaii. It used to be part of the former Barbers Point Naval Air Station and known for its consistent surf breaks that reach 2 to 4-feet, making it an ideal spot for
beginner to intermediate level surfing.
The atmosphere here is very relaxed and fun, and families come here a lot. Apart from boarding, this white sand beach is perfect for sunbathing while the tree-covered barbecue areas are ideal for picnics.
This beach is reminiscent of Waikiki but without the condos and the crowds (at least during weekdays). On weekends, the beach can get packed with both locals and tourists coming in to soak up some sun, enjoy the waves and simply have fun with family and friends. It also offers spectacular views of Pearl Harbor and Diamond Head.
There is a section of the beach which is designated for swimming so there is no danger of getting hurt by the boarders. This part is protected by an offshore reef that keeps the waves down.
The flat ocean bottom and fairly shallow water make this beach one of the safer places to take surfing lessons. There is a military shack where surfboards, snorkel gear, stand up paddle boards, etc., are available for rent.
Facilities include expansive parking, grassy lawn, picnic tables, showers, well-kept restrooms, and lifeguards.
The beach is also a favorite destination of Hawaiian monk seals which take up residence here several months out of the year.
White Plains Beach is located at Essex Rd. and Tripoli Rd., off H1 W.Kapolei. It is about 35 minutes away from downtown Honolulu.