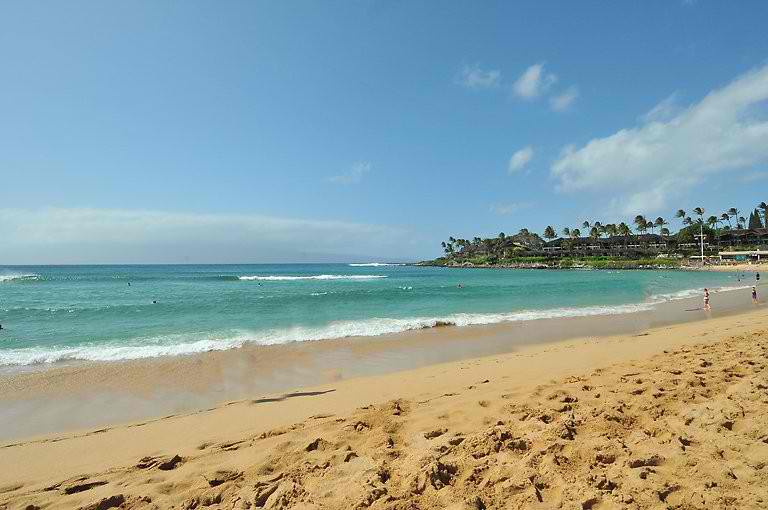 Napili Bay Beach is a sandy crescent beach off Napili Bay in northwestern Maui. It lies between two rocky points and is a well known beach for swimming and other water activities.
The beach has a sandy ocean bottom that drops off quickly to overhead depths, which can cause a powerful shorebreak during winter months when the surf is up. During this period, the beach becomes a favorite spot among bodyboarders and surfers. Visitors are advise to monitor ocean conditions closely and be cautious when entering the water.
During summer months, the water is calmer and is excellent for swimming and snorkeling. Many hotels and vacation rentals are nearby the Napili Bay Beach, so expect sunbathers and bechcombers even during weekdays. Nevertheless, the bay is quite secluded and still preserved with the natural beauty and charm of a tropical beach.
Tidal rocks flank the two ends of the bay. There are tidal pools at the southern end of the beach which are available for exploration and discovery. Hawaiian green sea turtles frequent this area. Only obeserve the turtles at a safe distance. These animals are endangered species and touching and interacting with them is prohibited by law.
The beach also offers spectacular mountain views of the eastern side of Molokai as well as breathtaking sunsets.
Napili Bay Beach is on Lower Honoapiilani Road, just on the edge of the Napili and Kapalua communities and you'll pass through Lahaina and the Kaanapali areas as you drive north on Hwy. 30.