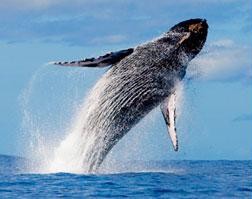 From December to May of every year, humpback whales return to the warm waters of Hawaii to breed and give birth to new calves. Hawaiians treat these gentle giants with utmost respect. Native Hawaiians believe that hunchback whales, or "kohola," is an aumakua, or family guardian, so they have high regard for these special visitors.
Weighing up to 45 tons, these whales are a spectacular sight. There are available whale watching tours or you can book a private boat to spot these magnificent creatures. They come with expert guides who will take you to the best spots to observe whales playfully surfacing, tail slapping, or blowing spouts in the air.
There are regulations prohibiting boats from approaching within 100 yards of a whale and you should never swim with or touch whales or any other marine mammals. Don't fret because you'll still get a good view from a boat to marvel at these magnificent creatures.
You can also spot whales from Oahu's many beaches and from southeastern Oahu spots like the scenic Makapuu Lighthouse, Hanauma Bay, and along the seaside overlooks near Leahi (Diamond Head). Whale watching tours and cruises depart from various ports along Oahu's southern and western harbors.