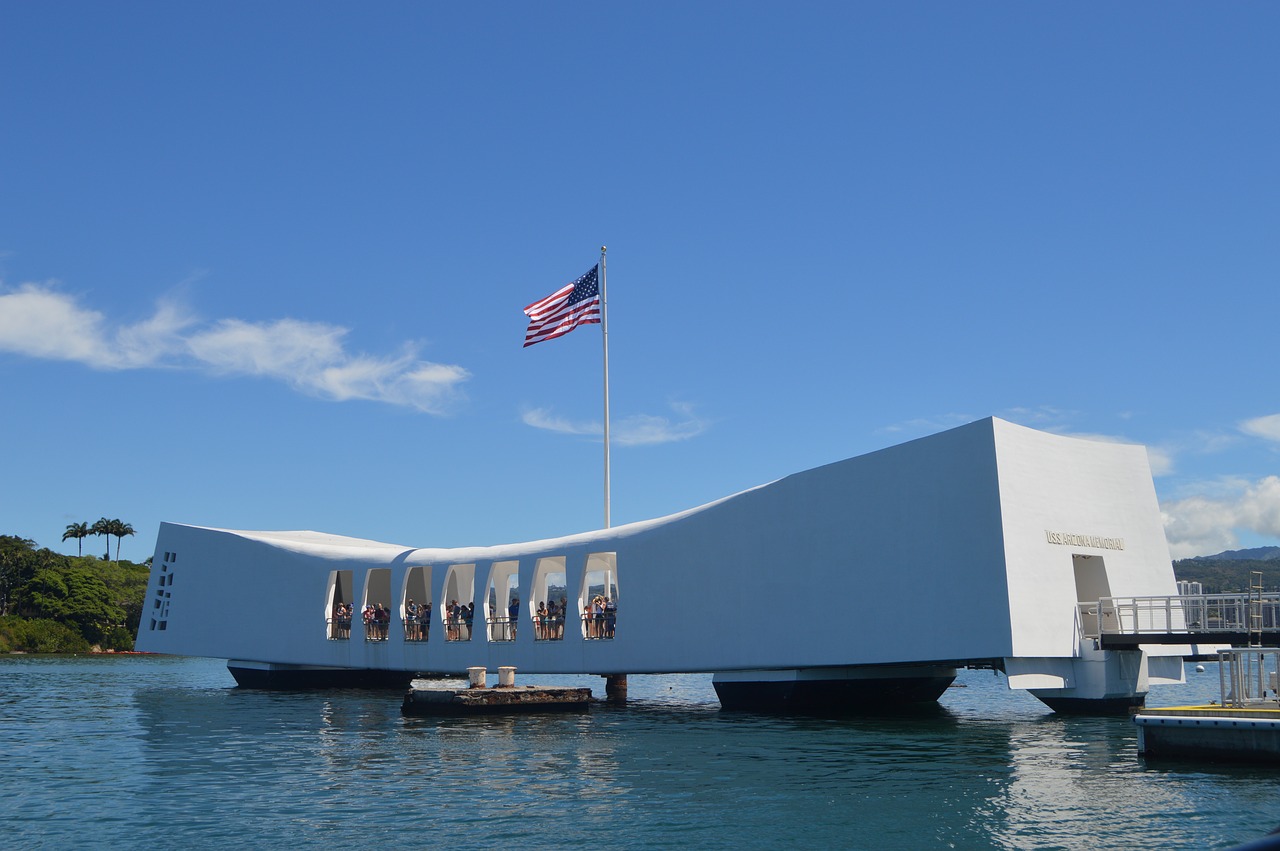 Pearl Harbor is where World War II began and ended for the United States. It has become one of the most popular tourist destinations in Hawaii with an average of 4,000 visits daily. It is home to some of the most important World War II historic sites.
There are many available Pearl Harbor tours which include a visit to the Arizona Memorial and other fascinating historical museums. A shuttle-boat takes visitors to the USS Arizona Memorial built over the sunken remains of the USS Arizona battleship. A short walk away from the Arizona visitor center is the USS Bowfin submarine museum, another interesting destination for those visiting Pearl Harbor.
The USS Arizona Memorial and Museum is a moving tribute to the brave soldiers who lost their lives in the Dec. 7, 1941 attack on Pearl Harbor. A visitor center and museum are the land-based portions of the memorial park. A free ferry takes visitors for the short boat ride to the memorial located over the sunken hull of the USS Arizona. Over 1.5 million people visit the Arizona Memorial every year.
The USS Bowfin Submarine Museum is also worth a visit. Go on board one of the few WWII submarines still afloat and experience what it feels like for a submariner. Adjacent to the sub is a fascinating museum focused on the US Naval submarines from the first in 1900 to the nuclear submarines of today. Numerous other submarines, torpedoes and missiles are located on the grounds around the Submarine Museum.
Marvel at the greatness of "Mighty Mo," last of the great US battleships, at the Battleship USS Missouri Memorial and Museum. This battleship secured her place in history as the site of the surrender to Allied Forces that ended World War II. Learn what life at sea was like with tours throughout the ship, films, photos and artifacts at the Missouri Museum.
The Pacific Aviation Museum is also known as the Pacific Air Museum and is located on Ford Island.  The museum features educational presentations of WWII planes, dioramas, historical movies, and fascinating true stories of heroes and villains. make this museum entertaining as well as educational. Visitors can try their skills in a WWII dogfight in a flight simulator.