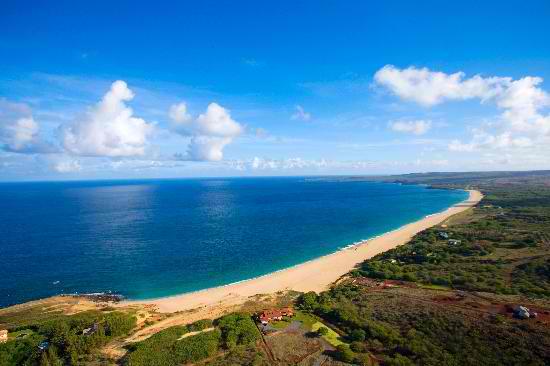 Papohaku Beach is a 3-mile long and 100-yard wide beach in West Molokai. It is sometimes referred to as Three Mile Beach for obvious reasons and is considered as one of the longest and widest white-sand beaches in the Hawaiian Islands.
Because of its remote location, the beach is almost always deserted. While the fine white sand and spectacular ocean views are great for picnics, sunbathing, beach-combing and sunset watching, the beach is not the best spot for swimming because of strong rip currents.
There is no reef that protects Papohaku Beach, so it is fully exposed to the open ocean. Dangerous surf can occur at any time of the year and since nothing blocks the waves, they break forcefully and can wash up high on the beach. Bodysurfing, body boarding, and surfing is limited to experienced surfers. Beginners should look for a safer beach to practice their skills. Waters are calmer during summer but caution is still advised when venturing into the sea.
The beach can also be very unpleasant during extremely windy days because the strong tradewinds will blow the sand all over you.
Behind the beach is a kiawe tree forest. Kiawe trees are known for their pesky thorns so be careful when looking for a shady spot under a tree. Check the spot for thorns before sitting down. Also wear shoes when walking anywhere near a kiawe tree.
Facilities include outdoor showers, restrooms, picnic facilities and free parking. There are no lifeguards in this beach so always take caution even when just walking along the waters' edge especially during winter months. Also heed all posted safety signs on the beach.
To get to Papohaku Beach, take Kaluakoi Road to the western coast from Maunaloa town.
Papohaku Beach - Molokai, Hawaii Photos