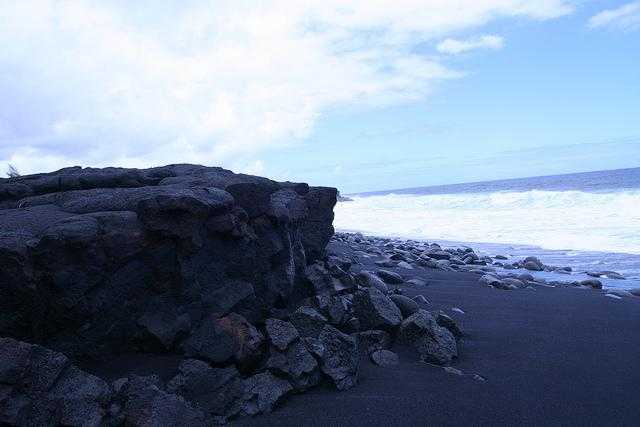 Kaimu Beach in Kalapana, a small fishing village on the Big Island of Hawaii, used to be known for its fine black sand, picturesque views of Kaimu Bay and spectacular surfing opportunities. However, the eruption of Kilauea volcano in 1990 totally destroyed and buried the village and the famed Kaimu beach in 80 feet of lava! For months, lava continued to flow into the ocean and filled the bay with new land mass.
Two decades after the eruption, a new black sand beach has emerged where the lava flow reclaimed the ocean. A few years ago, fine black sand start to fill up the shoreline, a result of massive ocean waves crashing relentlessly against the lava rocks, breaking large chunks of lava into smaller and finer grains of sand over time.
Swimming is not recommended at Kaimu Black Sand Beach because the waves are extremely dangerous and the strong current can pull you out to the open sea. However, the magnificent views of the Kaimu Bay are still worthy of a visit. Plus, the trek to the new beach is a lesson on how landmass can be formed.
To get there, head south from Pahoa village on Hwy 130 (Pahoa Kalapana Road) and drive about 10 miles down the hill toward the ocean. After passing a historic small white church on the left, look for a highway sign that says Kalapana. Turn left at the sign, then follow the curve to the right and continue toward the ocean. At the next stop sign, turn right onto Kapoho Kalapana Road, also known as the Red Road. Drive a little further and you will see a parking lot where you can park your car. The path to the new Kaimu black lava beach is about a 1/3 mile and starts from the parking lot. Stay on the trail and watch your step as there are cracks and jagged lava rocks along the way. Also watch out for and avoid stepping on young coconut trees planted by locals to help return the beach to its previous beauty.
Another point of interest in the area is the small hut at the trail head which displays photos of the old Kalapana village before and after the 1990 volcanic eruption, as well as interesting information regarding Hawaii's history and sovereignty.
There are no facilities in this beach. A store across the parking lot sells bottled water, sandwiches and snacks while the Uncle's Awa Bar next door serves drinks and refreshments. Every Wednesday, a Night Farmers Market is held at the adjacent compound featuring food vendors, arts and crafts, fruits, vegetables and live entertainment.