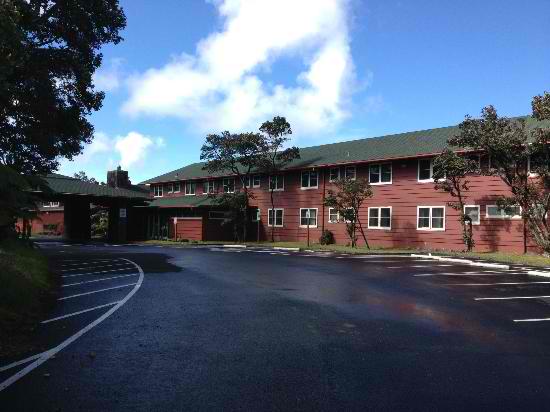 Volcano House is a historic hotel built at the edge of the Kīlauea volcano, within the grounds of Hawai'i Volcanoes National Park on the Island of Hawaii. The original Volvano House, a simple, one-room affair made of grass and native Ohia wood poles, was built in 1846. Bigger and better structures were built on the site throughout the years. Queen Liliuokalani, Mark Twain and President Franklin D. Roosevelt were among the historic hotel's most well-known guests.
Today, the hotel is comprised of several structures including the a building which dates back to 1877 and is now listed on the National Register of Historic Places. This building currently houses the Volcano Art Center while a newly renovated and restored structure, originally-built in 1941, serves as the main hotel.
The Volcano Art Center is an art gallery featuring artworks inspired by Hawaii's volcanoes by over 300 artists. Apart from exhibits, other special events are held in the gallery. The Volcano Art Center is open from 9:00 a.m to 5:00 p.m. daily.
At a 4,000-foot elevation, the hotel offers spectacular vistas of the nearby rainforest and the Halema'uma'u Crater at the summit of Kilauea, one of the world's most active volcanoes. There are 33 guest rooms, a dining room, snack bar, lounge, and gift shop, which carry a variety of souvenirs, books, videotapes, film, clothing, jewelry, and local arts and crafts.
For a truly rustic experience, ten camper cabins are available in the nearby Namakanipaio Campground. Each cabin can accommodate up to four people and comes complete with bed linens, towels, a full bed, and two twin beds. There is no electricity in the campgrounds but the cabins are equipped with electric lights. Each cabin has its own campfire pit and barbeque grills.
Volcano House is just a short walk across Crater Rim Drive from park headquarters and the Kīlauea Visitor Center. From Hilo: 30 miles southwest on Highway 11 (45 minute drive); from Kailua-Kona: 96 miles southeast on Highway 11, or 125 miles through Waimea and Hilo via highways 19 and 11 (2 1/2 to 3 hour drive).