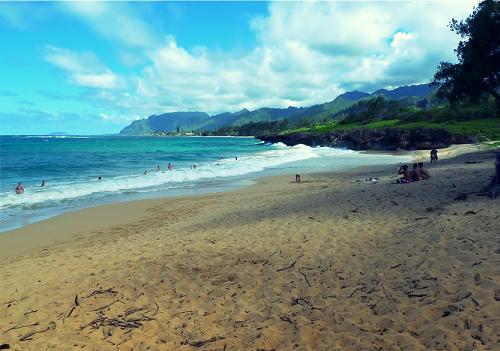 Laie Beach Park is a white-sand beach located on the northeastern shore of Oahu in Hawaii. It is also called Pounders Beach due to the powerful beach break that pound its southern end. The beach break, courtesy of a shallow sand bar, offers excellent body surfing and boogie boarding conditions all year round but the waves are usually more consistent and higher in the winter months.
Above the south end of the beach is a limestone cliff called Pali Kiloi'a, which means "fish-spotter cliff" in the Hawaiian language. It is a popular spot for shoreline fishing.
The beach's northern end is much calmer and ideal for swimming. Near this part is another small beach called "bathtub beach" by the locals. An offshore coral reef protects the beach from incoming waves, making the water less turbulent here during summer. However, the area can get dangerous during high surf season.
Behind the beach are numerous ironwood trees which provide plenty of shade and excellent spots for picnics. There are no facilities on the beach, but some shops and a grocery store is located in Laie. Other nearby attractions are the Brigham Young University and the Polynesian Cultural Center.
Laie Beach Park can be reached at 55-201 Kamehameha Highway, Laie, Hawaii.
Save