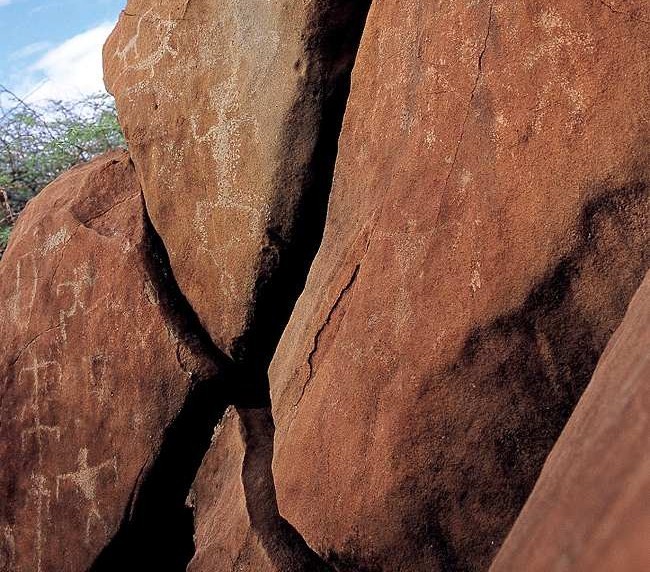 Just like other prehistoric cultures of the world, the ancient Hawaiians documented their experiences and important occasions by carving them into rocks. Called petroglyphs, these ancient drawings are discovered in various islands of Hawaii including Lanai.
The Bird Man of Lanai Petroglyphs, located on the northeast coast of the island, is one of the most popular prehistoric sketches in Hawaii. They are officially called the Poaiwa or Puaiwa Petroglyphs, but more popularly referred to as the "Bird Man" because the rock carvings depict 12-inch tall stick figures with bird-like heads. The drawings are also sometimes called the Shipwreck Beach Petroglyphs due to the site's close proximity to Shipwreck Beach.
The Poaiwa Petroglyphs are comprised of different scenes in ancient Hawaiian culture such as surfing, hunting, and fishing. Apart from men, women and children, figures of animals such as dogs, horses, chickens, deers and cows are also visible from the different tableaus.
The petroglyphs are estimated to date back to the 15th century but their exact age is not known. They are particularly interesting as they provide a glimpse of the area's ancient history and local culture.
The site is open daily, from dawn till dusk. Admission is free. Just like other historic and archeological sites in Hawaii, visitors are requested to treat the petroglyphs with utmost respect and refrain from touching, moving or defacing the ancient artifacts.
While relatively accessible, visiting the site requires a four wheel drive vehicle. From the Lodge at Koele, go past the parking lot to the top of the hill and straight ahead on Hwy 440 for approximately 8.5 miles. Near the sea, the dirt road to the left will become a sandy road. Proceed for about 3 miles. It is a short walk to the ruins of the lighthouse, and look for a "Bird Man of Lanai" sign.