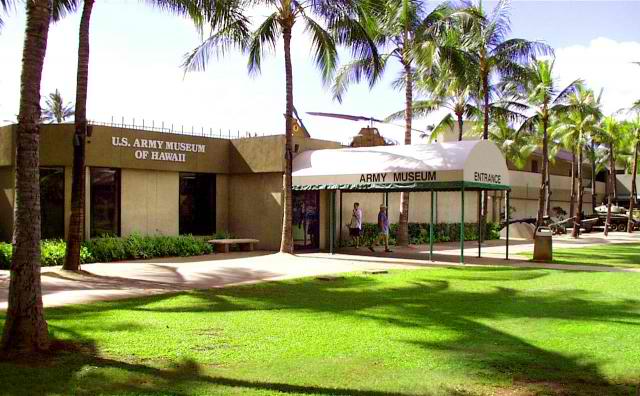 Fort DeRussy is a US military installation located in the Waikiki area of Honolulu, Hawaii. It is home to the U.S. Army Museum of Hawaii and features a sprawling landscaped park which are both open to the public for free.
The fort was named in honor of General René Edward De Russy (1789–1865), a United States Army officer who was responsible for erecting many Eastern United States coastal fortifications during the American Civil War. There are four other Forts DeRussy in the United States (two in Louisiana, one in Kentucky, and one in Washington, D.C) which are named after Rene Edward and his brother Lewis Gustave De Russy.
This Waikiki fort was one of a number of shore batterys on the island of Oahu designed to provide coastal defense. However, most of the artillery on this site were retired during the early 1950s.
The site is now home to the U. S. Army Museum of Hawaii located within the Battery Randolph, an old coastal artillery battery built in 1911. The museum features exhibits which cover the history of US Army warfare in the Pacific hemisphere including World War II armor pieces, an AH-1 Cobra helicopter, and small arms indoors. Admission is free.
Fort DeRussy is also the location of the Asia-Pacific Center for Security Studies, the Fort DeRussy Chapel, and the Hale Koa Hotel, a morale, welfare and recreation facility for use by U.S. servicemen and their families.
Nearby is the Fort DeRussy Beach, one of the least-crowded beaches in Waikiki. Water is usually calm and excellent for swimming but is also popular among windsurfers, boogie boarders and board surfers during windy and high surf conditions. There are lifeguards, showers and grassy lawn with palm trees perfect for picnics and relaxation.
The fort is located at 32 Kalia Rd., Honolulu.