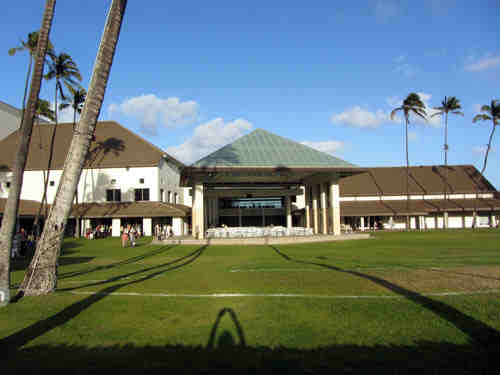 The Maui Arts & Cultural Center is a 12-acre visual and performing arts complex located in Kahului, in Central Maui, Hawaii. It is home to several performance and exhibition venues equipped with state-of-the-art facilities.
The center plays host to Hawaiian cultural programs, music, dance and theater performances, international & local art exhibits, movie screenings and a colorful spectrum of special events.
The Maui Arts & Cultural Center is comprised of the following venues:
Castle Theater - 1200-seat, three-tier theater with state-of-the-art sound system;
McCoy Studio Theater -  300-seat, multi-purpose/black box;
Alexander & Baldwin Amphitheater - an outdoor venue which can accommodate 5000 people;   The Pa - outdoor performance platform dedicated to hula;
Schaefer International Gallery - 4100-square foot, museum-quality exhibition area;
Yokouchi Pavilion - concert stage under a glass-capped roof;
Founders Courtyard - featuring bistro dining, built-in beverage and food service bars.
There are other halls and rooms which can be used for meetings and other events.
The Maui Arts & Cultural Center is located at One Cameron Way in Kahului, adjacent to University of Hawaii Maui College. It is open Monday to Saturday, from 10am to 6pm.
Save