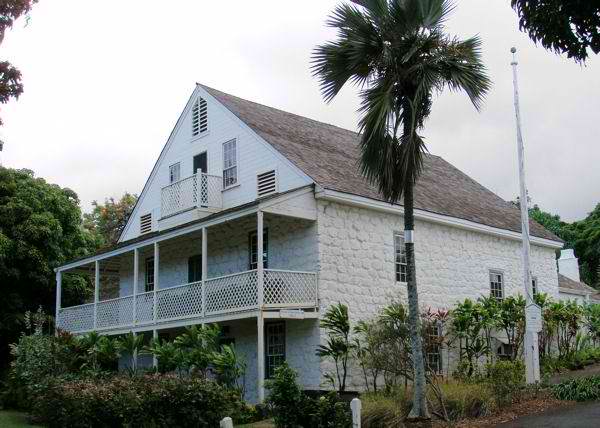 Hale Ho`ike`ike at the Bailey House, also known as the Bailey House Museum, is an old stone home located at the mouth of the Iao Valley in Wailuku, Maui, that has been converted into a museum of Hawaiian history and art. It is owned and operated by the Maui Historical Society. It is now listed in the National Register of Historic Places.
The structure was built in 1833 and was one of the first western-style houses in the area. Lava rocks and native woods, including koa, were used in the construction. The house initially served as a mission house and then converted into a Christian seminary until it closed down due to lack of funding.
Edward Bailey, a missionary teacher and operator of a small sugar cane plantation, bought the house in 1850 to become his family's residence. The Baileys' house and sugar plantation eventually became part of the  Wailulu Sugar Company and later on, the C. Brewer & Co.  Bailey was also an accomplished painter and one of his works is displayed in the museum.
In 1957, the house was opened to the public as a museum called Hale Ho`ike`ike, which is Hawaiian for 'House of Display'. Masaru "Pundy" Yokouchi purchased the Bailey House in 1991 and donated it to the Maui Historical Society.
Today, Hale Ho`ike`ike at the Bailey House boasts of an exemplary collection of Hawaiian artifacts and art featuring Maui and its people. Items on display include pre-European contact artifacts such as utensils, tools, and weapons; a statue of Hawaiian demi-god Kamapua'a which is the only wooden statue on Maui to survive the 1819 purge of the indigenous religion by King Kamehameha II; and a replica of an ancient Polynesian-style sailing vessel called hokulea.
On the second floor are rooms furnished as they would have been in early 19th century Hawaii.
The museum grounds also feature rare artifacts including Duke Kahanamoku's 1919 redwood surfboard and a 33-foot  honaunau, a 1900s era outrigger canoe used for fishing. The vessel was carved from a single koa log, and is one of the last koa fishing canoes made in Hawaii. The gardens feature native Hawaiian plants, including endangered species from Maui and the Hawaiian Islands.
Located near the museum is a Gift Shop offering the finest Maui traditional and contemporary hand-crafted items made by local artisans. Books about Hawaiian heritage are also available.
Hale Ho`ike`ike at the Bailey House is located at 2375 Main Street in Wailuku and is open Monday through Saturday, 10 AM to 4 PM. Admission fee: Adults, $5; Children ages 7-12, $1; Seniors, $4.
To get there, take Kaahumanu Hwy. (Hwy. 32) west from Kahului toward Wailuku. The road becomes Hwy. 320 and you will see Bailey House Museum on the left just after Kehalani Parkway and before Vineyard Road.
Save
Save
Save