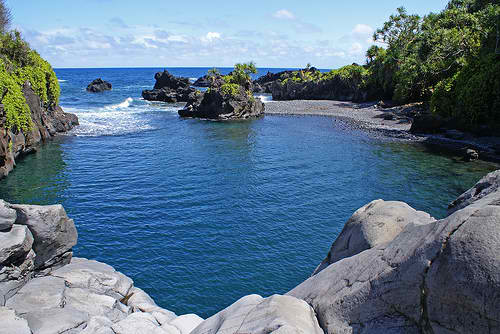 The Venus Pool, Waioka Pond to the locals, is a naturally formed fresh water pool, southeast of Maui, Hawaii. It sits between Hana and Oheo Gulch Pools and offers some of the most beautiful views imaginable.
According to ancient Hawaiian folklore, only royalty were allowed to use the pool during the olden times.  Today, anyone can bask in the sun while laying on one of the smooth rocks around, take a plunge in the Venus Pool's cool water or simply enjoy the phenomenal views. That is if they can find the secluded pool.
Thanks to the area's remoteness, Venus Pool remains pristine. There are no paved roads to the pool, only an unmarked trail along Hana Higway that can be easily missed. Look for mile marker 48 and park just before the bridge. On the other side of the fence follow the well-worn footpath that parallels the stream. Turn right toward the stream and take the path down to the smooth rocks above the stream. The walk will take about 15 minutes or so. Make sure to wear comfortable walking shoes and not flip flops.
Once there, enjoy whatever the pool has to offer but make sure to keep the place clean. Also stay away from the surf zone near the ocean end as the undertow is strong.
Venus Pool (Waioka Pond) Photo Gallery